Post by Q3 on Dec 7, 2013 2:03:16 GMT -5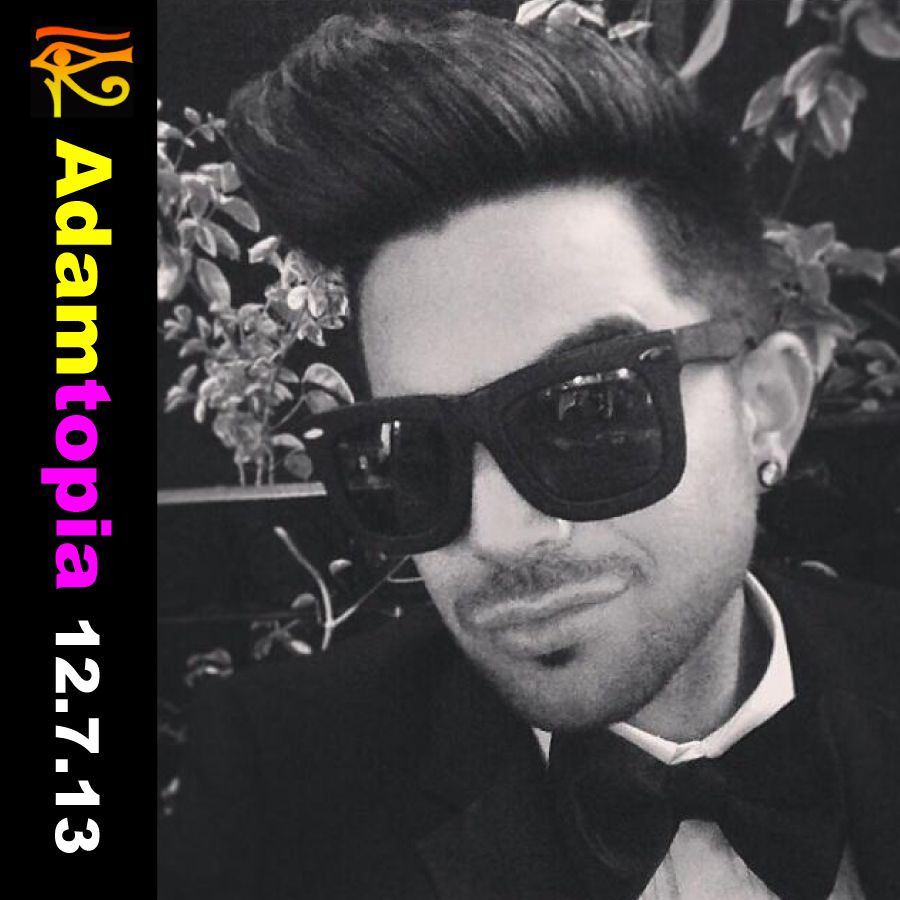 Adam Lambert ‏@adamlambert
Friday Night Shade instagram.com/p/hmv-IyONO_/
What do we know about A3?
12.7.13 by Q3
In a few weeks, I believe that we should finally start to learn something about Adam's next album. But what we already know is enticing. And I think we know more than Adam thinks we know because there are really a lot of small hints.
Earlier this week, we got a 2 or 3 teasers -- first we a reminder that Adam is working with Justin Tranter from Semi Precious Weapons on album tracks. Then we get this bit from a UK blog that often gets info from Edge Publicity, Adam's PR firm.
And there was that long email to Nile Rodgers. [nilerodgers: adamlambert Thanks for the awesome email. I miss you and the voice of yours. Talk soon man. 12.5.13] We have no idea what the email was about but my guess is music, my hope is that is about new Adam music.
So what do we know? Put on your ninja masked and let's figure it out.
Upcoming Events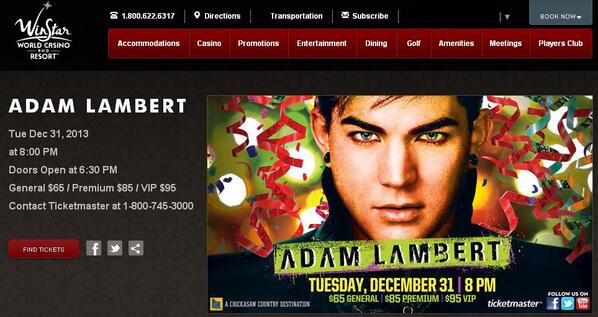 WinStar Casino, OK
Tue Dec 31, 2013 at 8:00 PM
Doors Open at 6:30 PM
General $65 / Premium $85 / VIP $95
Tickets for this event contact Ticketmaster at 1-800-745-3000
or online at Ticketmaster.com.

NOW: "Into the Groove" and "The Fox" Glee Cast + Adam and Demi Lovato + Glee Cast iTunes
December 8, 2013 Adam perform at TrevorLive, The Hollywood Palladium. To purchase tickets for the Trevor Live Los Angeles 2013 www.kintera.org/faf/Gala/ECReg.asp?ievent=1085203&lis=1&kntae1085203=26BAE6F291FB45248BAD1411165D73FE

December 29, 2013 Adam in concert, Hard Rock, Biloxi, MS. Fan club presale + tickets via TicketMaster. On sale Friday, November 22, 2012, 10:00AM Central Time.

December 31, 2013 New Year's Eve Concert at Winstar Casino www.winstarworldcasino.com/

Adamtopia Guidelines
The Adamtopia guidelines are quite simple. To be a member of Adamtopia...
1. You must be an Adam fan.
2. You must be respectful of other members. Feel free to express your opinion, but be glitterier and golden.
3. Strive to be funny, entertaining or informative when you post. Avoid posting something that has already been posted.
4. Never question anyone's right to post, the appropriateness of a topic or define the proper way for an Adam fan or Adamtopia Member to behave.
Let the moderators do their job.
More rules will be added if the need arises but, if everyone follows these rules, we will not need a lot of rules.
Read more.
Happy Birthday
soha and zai746!!