Post by nic42 on Dec 30, 2017 18:24:37 GMT -5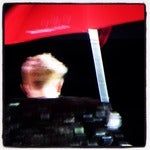 I don't think I can write a recap for these shows. It was amazing, more than special. They took me up into the clouds, opened my heart and filled it with joy. I cried when it was all over.
I love this picture of Adam. As
redpanda
calls him, 'joyboy' is one of my favorite aspects of Adam. He makes you smile, not just on the surface, but deep inside where it heals and makes the world a little better.
I understand the difficulty wrlting recaps of something so hard to describe. How can you do it justice is the worry and you just want to hold the feeling close. So don't be concerned, your photos tell the tale.
Yes, exactly! For me it is not only the inability to do a show like that justice, but also that so much happened in two days. Travelling in a new area, countless hours in two different queues, the new people I met (I finally saw gelly and riddle!!), the old friends that I had drinks with, a new hotel room, getting lost in Birmingham and not minding at all because I was in excellent company, the jokes and fun we had, the stress of getting a good spot, the cold (the snow!), waiting for Brian and Adam after the show (unsuccesfully), picking the perfect outfit, and then layering a lot over it to stay warm while waiting, hearing Adam soundcheck in Wembley and feeling the doors of the venue rattle with the strength of his voice. So many things happened, beautiful moments, meaningful moments. And that is not even counting the shows!! The sheer joy of being so close, letting myself be filled up with the marvellous music of Queen. Adam looking me in the eye during Get Down Make Love, me not realizing that the world hadn't ended until a few songs after that. Finally getting what I Want It All really means to me. Starting to cry during WWTLF and then abruptly stopping again because I got the biggest spot ever pointed straight at me, with Adam as a shadow in that spot, not knowing whether he was looking at me. (I was very very close). The feeling that everything was allright with the world. The absolute joy, balm for my soul. I could write and talk so much about these shows and it would not do justice to them.
So many different moments that I wish I could keep forever. Maybe that is part of why I take pictures. To keep a little bit of the magic with me when it is over.