Post by Q3 on Jan 19, 2017 22:34:27 GMT -5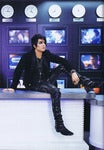 Philipp Kirkorov is kind of interesting in more ways that one. He is obviously writing, singing and performing in a country that does not allow him to be completely out, but he surely does not hide.
Here is 'snow', a song about lost love. The lyrics can be interpreted to be a love that has not been forgotten, but obviously, it can also apply to a love that cannot be.
I came across this artist a few years back, because he enunciates very clearly, and therefore his songs are great for people learning Russian language. He also shares with Adam that he sings with strong lyrical qualities to his tenor voice. Classic Russian melancholy in song form. But I had no idea that he and Adam had connected or knew each other. Wonder how that came about, given that he does sing in a very Russia specific genre and not really modern pop or dance music.
=====================================
Finally: Regarding the dog rescue organization.
There is a US wide umbrella organization called Adopt-a-pet.com, that is pretty much a website/portal/search tool, that operates for whole of US and is connected to some 20,000 local rescue and animal welfare organizations. It is also a non-profit organization, that interestingly presently has Adam's Walk-me-home Rescue as featured organization on its front page. Maybe for those that have an issue with going with a CA local chapter directly, maybe that could be a place of support instead. Q3, would that be a good idea?
I realize that this does not help people oversees yet, but it would allow for some US wide consolidation in Adam's name, without having to do it via individual emails or pm messages. Just a thought, putting it out there as an idea on my part, so don't donate there yet, not sure whether peeps will like this idea.
We just adopted a rescue dog last month, and she is wonderful, these animals give you so much love back for everything you do for them. I don't really have a problem supporting a CA chapter, especially given that the recent storms out there have left many people overwhelmed or unable to care for animals, and so the demand surely will be high. Many of these agencies also work together with each other, trying to find somewhere where there is a place open, in time of need. Our dog was found in Kentucky and we are in PA. If one organization is supported and can fund a special project, due to a sudden influx of funds, it will help everyone in tow.
But I can appreciate that this gets a bit murky when it comes to supporting an oversees organization that is not world-side. First of all, your donation is not tax exempt, and also there surely are local needs too, so hopefully we can consolidate those various regional efforts somehow. Maybe we could add one of the international animal rescue organizations out there as an additional alternative, something like IAR or IFAW or similar? Would that work?
I will stick with tracking donations to WMHRG. We can make a difference there and it feels karma-right to me.
*****
If you have a local rescue organization you want to give to and you want me to include the donation(s) in the total, just PM the group name, location and amount. I will add it to the total and we can list all the organizations on what we send to Adam.
So do what feels right to you.