Post by tinafea on Jun 9, 2013 9:35:48 GMT -5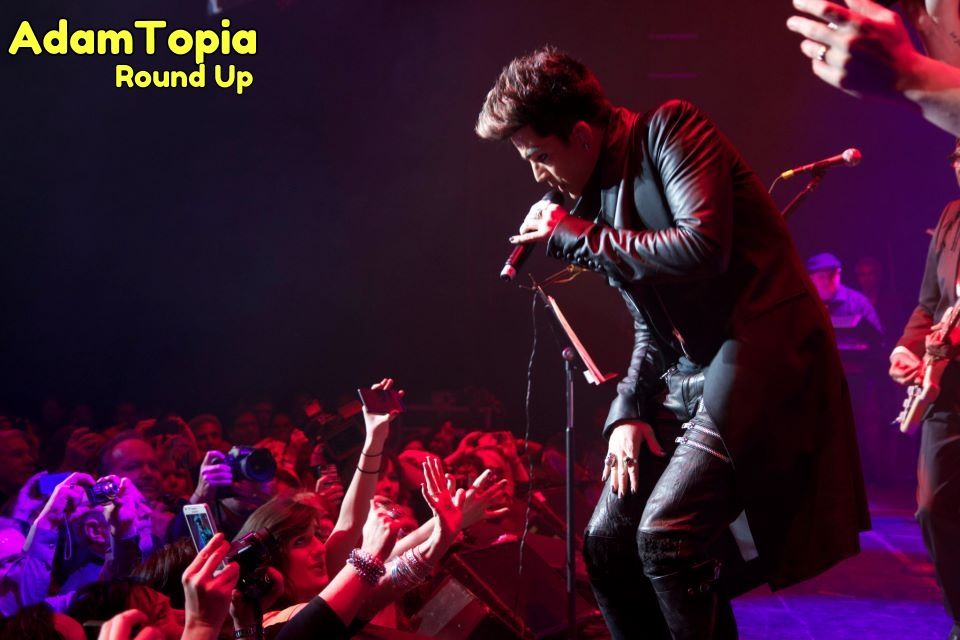 News Links

Published on Jun 7, 2013
www.facebook.com/LGBTHollywood
- Kicking off Pride Month, Mayor Villaraigosa presented the Hope of Los Angeles Award to singer Adam Lambert. The Mayor even scored a kiss on Adam while the President of Council Herb Wesson fawned over him. Quite enduring indeed! LGBT HERITAGE MONTH at City Hall May 31, 2013. Video produced by Renee Sotile & MJ Godges of Traipsing Thru Films
Adam Lambert: Hammer Time at Just Jared's Summer Kick-Off Party Presented By McDonald's
www.justjared.com/tags/2013-just-jared-summer-kick-off-party/page/2/?ref=topposts
Adam Lambert, LeAnn Rimes Flick Off Bullies
By Drew Poulsen, New York | June 04, 2013 2:30 PM EDT
www.billboard.com/files/styles/promo_650/public/media/adam-lambert-bird-650-430.jpg
Today, images of LeAnn Rimes and Adam Lambert giving cameras the middle finger began circulating around the internet in support of an anti-bullying campaign that embraces a new "F" word -- friendship.
Originating in Los Angeles, the Friend Movement is a grassroots organization created by Elliot Dal Pra London and Ronnie Kroell that aims to prevent bullying through enabling people to be better friends and by displaying positive images of people of all races, genders, and creeds.
The "New F Word" campaign is the organization's most recent effort in spreading bullying awareness and self-empowerment, as well as replacing hurtful "F" words like "freak" and "fag" with kinder ones like "friend."
By displaying thousands of pictures of celebrities and other supporters flipping the bird at bullying, the campaign hopes that others will learn to speak out against the issue and not let it continue because of silence. According to their website, the movement encourages victims of bullying to have an inner monologue that says, "F U, I am actually really FABULOUS and do not need your approval."
Along with Lambert and Rimes, stars such as Tim Gun, Lance Bass, and Carmen Elektra have given their help (and fingers) to this campaign. The Friend Movement will be launching a Kickstarter today to raise funds for a national tour where they will take 10,000 pictures of supports in three months to take a stance against all different types of bullying.
Link:
www.billboard.com/articles/columns/pop-shop/1565688/adam-lambert-leann-rimes-flick-off-bullies
25 Great Gay Moments In Music

Adam Lambert Glams Up "Idol," Debuts at No. 1
While Adam
Lambert didn't make his sexuality a major talking point while competing
on "American Idol" -- he later came out in a "Rolling Stone" cover story
-- "Idol" viewers and fans at home knew there was something special
about the flamboyant contestant. Lambert was out in his personal and
professional life well before he hit the "Idol" stage and made his mark
as the contestant to watch. On the show, he fired up audiences with his
glam rock stylings, sexed-up stage persona and multi-octave range.
Though he finished the 2009 season of "Idol" in second place, he
remained the season's breakout star and has since worked to become a
role model for LGBT teens. His major label debut album "For Your
Entertainment" earned him a Grammy Award nomination for the No. 10 Hot
100 hit "Whataya Want From Me," and his sophomore set, "Trespassing,"
debuted at No. 1 on the Billboard 200 in 2012. -- Keith Caulfield
Read more:
www.billboard.com/articles/list/513476/25-great-gay-moments-in-music?utm_source=twitter
'World War Z' Premiere Links
‏@adam_pictures Updated:
119 pictures of Adam Lambert at the "World War Z" New York Premiere
(June 17) -
bit.ly/10rPGnT
SOCIALITE LIFE ‏@socialitelife 4m 30 Pics of Adam Lambert looking tall, dark & handsome at 'World War Z' premiere
bit.ly/16dCZve
************
Adam Lambert sings the National Anthem at Broadway Bares 23


zakresnick
Adam Lambert Broadway Bares 2013
Lena Losk
Published on Jun 24, 2013 by @x_serenade
Adam Lambert Star Spangled Banner 6-23-13 Broadway Bares 2013 midnight show Video by Sam Bernero


toni7babe
ADAM LAMBERT Makes Surprise Appearance at BROADWAY BARES 23, Sings National Anthem


Boy Culture