Post by tinafea on Jul 18, 2013 23:28:53 GMT -5
Photo by Christi Goodwin
California Mid-State Fair Concert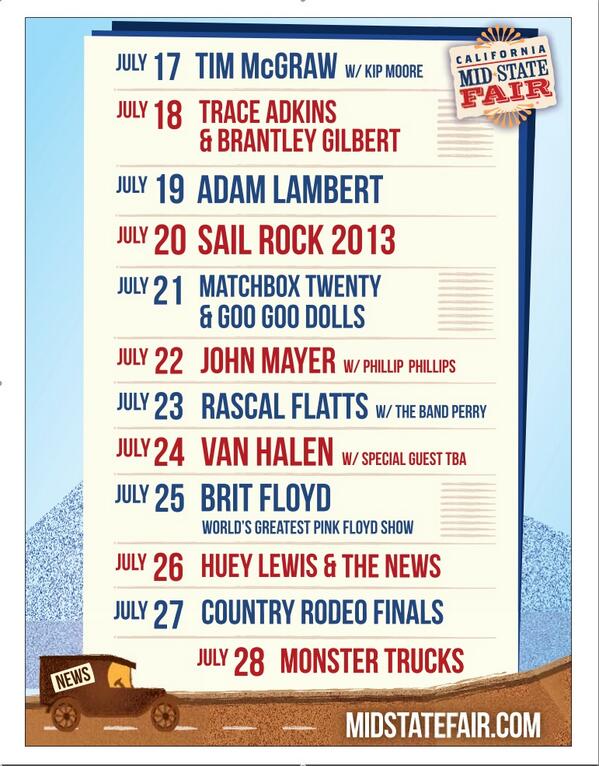 Adam Lambert Concert Advertisement In Paso Robles Magazine
pic.twitter.com/lIpo6R2q2R
via @lambertlust
Adam Lambert @ CALIFORNIA MID-STATE FAIR Paso Robles, CA
CAMidStateFair
Adam Lambert @ the California Mid-State Fair
Chumash Grandstand Arena
Paso Robles

Gates open at 6:30 PM PDT
Concert Begins at 7:30 PM PDT
Opening Act: Allison Iraheta and her band, Halo CircusWorld Clock
:
t.co/8KPWOUlc4V
Twitter List
:
twitter.com/adam_events/ca-mid-state-fair-7-19-13
Livestream
:
ustream.tv/channel/lambert-lust
ustre.am/T4KY
(butterknife)
Other NewsThe Week's Best Sound Bites - Adam Lambert "My heart is simply not in doing a covers album" (EW July 26)

via @spreckles
tmi.me/12lITM
Adam On Seiska
pic.twitter.com/Eb4wrDcCAO
Upcoming Events
Check the Adamtopia calendar for more events and links to more info.
TODAY! California Mid-State Fair concert 7:00PM PDT.
Purchase tickets here: ev12.evenue.net/cgi-bin/ncommerce3/SEGetEventList?groupCode=FAI&linkID=twvali-msf&RSRC=web&RDAT=msf
Allison Iraheta will open for Adam.
September 20, 2013 Queen + Adam Lambert at IHR Music Festival, MGM Grand, Las Vegas, Nevada. First US show ever!!

September 26, 2013 Glee Season 5 premieres on on FOX.
Radio Links

Every Saturday from New Zealand -- Adam Lambert Hour -- Live 5:00PM EDT US.

Link: theflea.co.nz/
Check out the ALH page for podcast of previous shows.This is the only weekly Adam Lambert show in the world.
Adamtopia News Thread
Adamtopia Daily News & Information thread is for discussing current news. Keep the news focused on Adam news. Please try to follow all the site guidelines. And most importantly, stay glittery and golden.
Birthday greetings
may be posted on the first page of comments. After that, please post birthday greetings in the Member News Section or send a PM. Two members have been designated to post birthday greetings whenever they get here -- our Confectioner Extraordinaire (Reihmer) and our Humorist (soeulmate). Birthday thread:
atop.proboards.com/board/10/birthday-greetings
Personal news and requests for advice
should be posted in the Member News thread:
atop.proboards.com/board/21/member-news-advice
Help Keep Adamtopia a Great Place
We don't have a lot of rules here but they are essential. Just as a reminder...
Adamtopia Guidelines

The Adamtopia guidelines are quite simple. To be a member of Adamtopia...
1. You must be an Adam fan.
2. You must be respectful of other members. Feel free to express your opinion, but be glitterier and golden.
3. Strive to be funny, entertaining or informative when you post. Avoid posting something that has already been posted.
4. Never question anyone's right to post, the appropriateness of a topic or define the proper way for an Adam fan or Adamtopia Member to behave.
Let the moderators do their job.
More rules will be added if the need arises but, if everyone follows these rules, we will not need a lot of rules.
Read more.
Happy Birthday
mintyworm and tomsawyer!!!!