Post by Q3 on Apr 24, 2011 1:05:03 GMT -5
Wallpaper created by barb4Adam, posted originally on IDF. I thought this background had a perfect Easter color background.
Adam and chocolate Easter bunny
From Adamquotedaily posted here by stampsgal
Posted by Animated on page 2, so beautiful that it needed to be on page 1!
Happy Easter!!!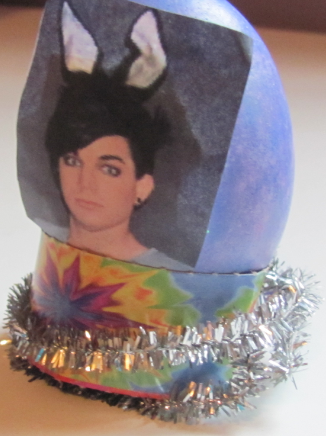 RCAPromo: Nice! RT @glitter4adam: Adam Lambert Easter Egg
twitpic.com/4on90i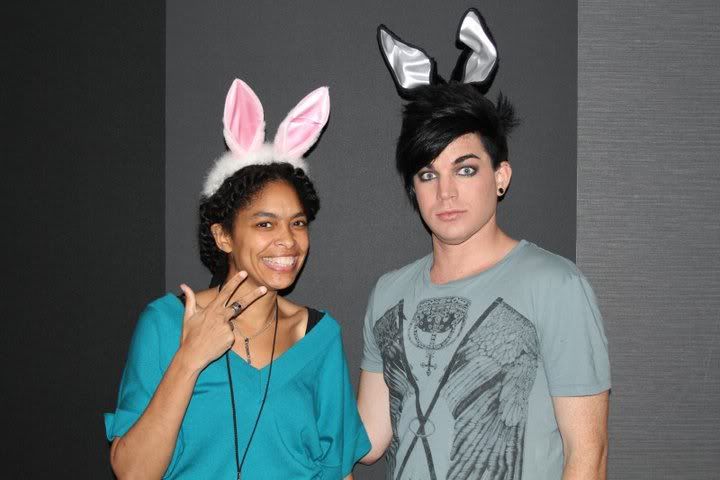 Posted by madnessaddict09 on Live Journal 10/09/11
A time for renewal and rebirth
4.24.11 by Q3
Note: If you are expecting something deep about rebirth or discovery – forget it. This is mostly about chocolate bunnies and peeps. And has nothing to do with Adam (OK he sneaked in at the end.) Just a bit of Easter fun – Adam news thread purists, please scroll past this.
There are two days each year when the daytime and nighttime hours are approximately equal -- each being 12 hours long. I like to think about these being the two times the world is in perfect balance with the universe. One is the Spring or Vernal Equinox which occurs between March 19 and 21. (The other is the Fall or Autumnal Equinox and happens in September.)
Both Neopagans and Christians continue to celebrate religious rituals linked to the equinox. Wiccans and other Neopagans usually hold their celebrations on the day or eve of the equinox. Western Christians celebrate Easter on the Sunday on or after the full moon that follows the nominal date of the Equinox – March 21. The Eastern Orthodox churches follow a different calculation; their Easter celebration is often many weeks after the date selected by the Western churches.
Modern-day Easter is derived from two ancient traditions: one Judeo-Christian and the other Pagan. Both Christians and Pagans have celebrated death and resurrection themes following the Spring Equinox for millennia. Most religious historians believe that many elements of the Christian observance of Easter were derived from earlier Pagan celebrations.
The holiday's name, Easter, is derived from the Saxon goddess of dawn, Eostre who was honored in the pagan spring festivals, which coincided with the timing of the Christian celebrations of the resurrection.
Some of the traditions associated with Easter
Easter cards are addressed and mailed. Eggs are hidden and found. Some eggs are rolled. A giant bunny sneaks into your house at night and fills up an Easter basket with candy, chocolate eggs and small toys. Eggs are dyed, painted and elaborately decorated. Women wear bonnets covered with flowers. In some parts of the world there is an Easter Parade. But where do all these traditions come from?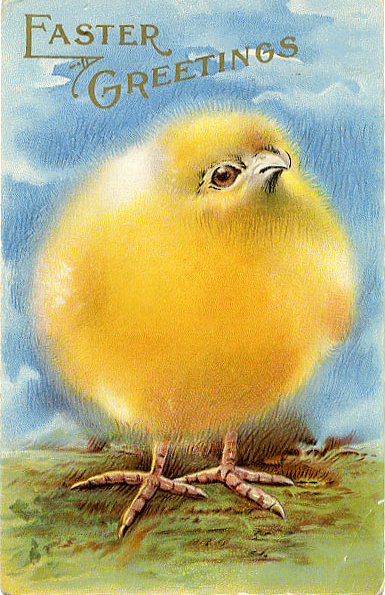 Eggs and Chicks
Eggs and Chicks are associated with Easter because for thousands of years they were signs of Fertility and New Life and used in spring celebrations across the globe. Early Christians used the eggs to symbolize New Life and help them remember the Resurrection and having New Life through Jesus.
Dyed eggs are an ancient tradition and were shared and eaten at spring festivals in ancient Egypt, Greece, Rome, Persia and China. Gradually these traditions made their way westward and were expressed in various forms – from dyed goose eggs to beautifully decorated paper mâché eggs in the 17th and 18th centuries. In the late 19th and early 20th century the ultimate Easter eggs – the Fabergé eggs made their royal appearance. Eggs were used by the ancient Persians and Egyptians to celebrate New Year, which happened for them in spring time. The eggs were colored and eaten during the celebrations. In Europe, colored eggs were used to celebrate Easter as house decorations. In Eastern European countries, such as Hungary and Romania, wooden eggs are beautifully painted in lots of different patterns. The patterns often have special names and meanings and help to tell the Easter Story.
In some countries, egg hunts take place at Eastertime. Eggs are hidden around a house or garden and children have to find them. Sometimes they are told that the eggs were hidden by the Easter Hare or Bunny.
Egg rolling races are held all over the world on Easter Monday. Eggs are rolled down a hill or slope and the first one to reach the bottom that hasn't broken is the winner. There is also an egg-knocking game is played in lots of countries including France, Germany, Norway and Syria. The game is played with hard boiled eggs. The object of the game is to hit everyone else's egg and to keep your own one unbroken. The last player with a whole egg is declared the winner.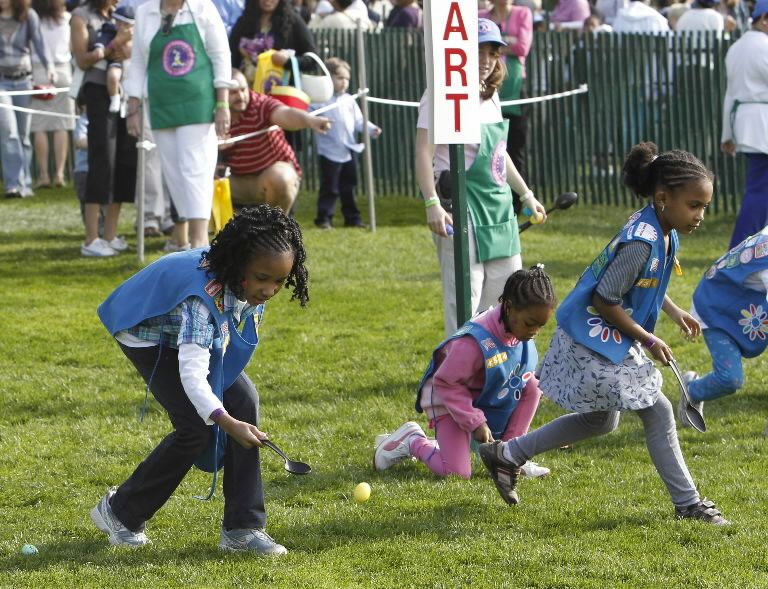 The White House Easter Egg Roll, a tradition in its 133rd year, is the largest annual public event at the White House. This year 30,000 people from all 50 states and the District of Columbia received tickets to the event.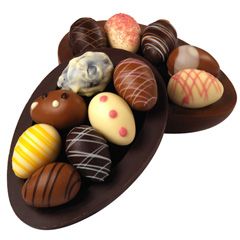 Chocolate Eggs
Chocolate eggs originated in Europe as part of a gift-giving tradition that can be traced back to 19th century France and Germany. The first eggs were small and solid and made of a course, bitter dark chocolate. As technology improved and cocoa became more widely available, so did chocolate Easter eggs. The tradition spread to many parts of Europe, often with each country making their own unique mark.
The first mass-produced chocolate egg appeared in England in 1873 when Cadbury debuted their first Easter egg. It wasn't until the early 1900s that milk chocolate Easter eggs became available. Today, chooclate Easter eggs are available worldwide in dizzying variety – from those found on supermarket shelves to the top quality uber-thick chocolate works of art, beautifully decorated and filled with chocolate surprises from specialty chocolatiers.
A separate tradition of chocolate egg manufacturing originated in German-American communities in the US, primarily Pennsylvania, and may be earlier than the European tradition.
World's Biggest Easter Egg
A general view of the world's largest Easter egg on March 24, 2005 in Sint Niklaas, Belgium. According to the Guinness Book of World Records this 1200kg Belgian chocolate Easter egg is the largest in the world.
Link:
inventors.about.com/od/weirdmuseums/ig/Easter-Egg-Photo-Gallery/World-s-Biggest-Easter-Egg.htm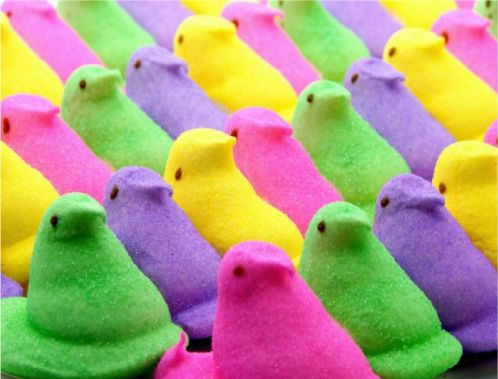 Peeps – the ultimate Easter candy
Peeps have been around at least since 1953 but may have been created as early as the 1920's. Surprisingly, no one seems to know when they were first made. Today, Genuine Peeps are made by Just Born Quality Confections, of Bethlehem, Pennsylvania, US.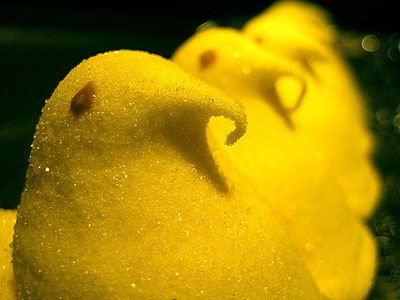 Peeps are small chicks made of colored marshmallow. Marshmallow was invented in ancient Egypt (but no hieroglyphs of peeps have been found yet.) The chicks were the originals. Bunnies came after. There are now several other holiday candies made with a similar recipe and process, such as Spooky Cats for Halloween, and Snowmen for the winter holidays.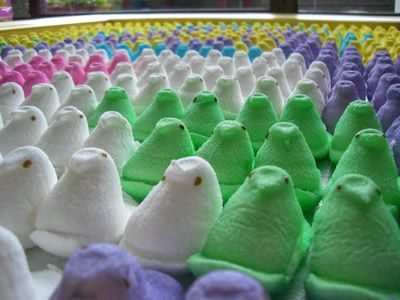 Beginning in the 1999 Peep Season, Peeps Eggs are available. These are slightly larger than Peeps or Bunnies, and are white with multicolored specks. As of Valentine's Day 2000, Just Born is making Peep-like pink marshmallow hearts. In June 2002, Just Born introduced Peeps Stars, star-shaped white marshmallow candy with red and blue flecks. For Halloween 2002, Just Born is introducing cocoa-flavored Bats. This appears to be their first chocolate-flavored candy in the Peeps line.
Today, Peeps are often used in artwork and have become a cultural icon. Here are two cultural icons put together.
Posted by Lynnville in thread – added to page 1.
Learn more about Peeps here:
www.geekbabe.com/peeps/peepfaq.html#question2a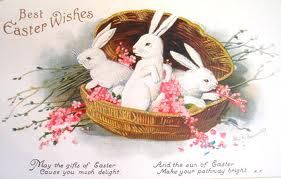 Bunnies, Rabbits and Lambs
In ancient times, Rabbits and Hares were signs of Good Luck and New Life. The inclusion of the hare into Easter customs appears to have originated in Germany. It was here where tales were told of an "Easter hare", who laid eggs for children to find, seems to have originated. German immigrants who came to America (particularly Pennsylvania), were the ones who brought the tradition with them, and spread it to a wider public. These early settlers also baked cakes for Easter in the shape of hares, and may have pioneered the practice of making chocolate bunnies.
Other Easter Traditions
Easter Cards
- Easter cards were first designed in Victorian England, when a stationer added a greeting to a drawing of a rabbit. The cards exploded in popularity as a way for people to send Easter greetings. According to major card manufacturers, Easter is now the fourth most popular holiday for sending cards, behind Christmas, Valentine's Day, and Mother's Day.
New York Easter Parade 2006
Easter Parades
- You may be surprised to learn that this tradition has long-standing origins. Early Christians wore white robes, all through Easter week, after their baptisms. This was meant to indicate their new lives. Those people had already been baptized wore new clothes instead to symbolize their sharing a new life with Christ. In Medieval Europe, churchgoers would take a walk after Easter Mass. This Easter "parade" was led by a crucifix, or the Easter candle. Today in many places around the world, these walks endure as Easter Parades.
The most famous Easter Parade: The Easter Parade is a New York phenomenon that dates back to the 1870s. The social elite would attend services at one of the fashionable 5th Avenue churches, such as St. Patrick's Cathedral, and parade down the Avenue afterwards to give onlookers - and each other - a chance to view their new Easter hats and dresses.
The less well to do would come to gawk at the carriage set and see what the latest trends were. Many handy seamstresses found inspiration for their middle class client's wardrobes at the parade. It was a combination of religious services, reality TV and haute couture in the days before mass media, when only the wealthiest New Yorkers could attend the hottest Paris fashion shows and keep up with the latest fashion trends.
While there is still an element of fashion involved in the modern spectacle, the current version tends to be more fantastic. Live birds nest in bonnets of real flowers and pets are dressed in the latest 5th Avenue doggy wear.
The flamboyant headgear and costumes are paraded down 5th Avenue to the delight of onlookers. You don't need a special outfit to join in the fun. Anyone can step out and stroll down the Avenue.
The New York parade became increasingly popular into the mid-20th century—in 1947, it was estimated to draw over a million people. Its popularity has declined significantly, with only 30,000 in 2008. Easter parades are held in many other US cities – the biggest are in Richmond, VA and New Orleans. There is also a large Easter Parade in Toronto, Canada.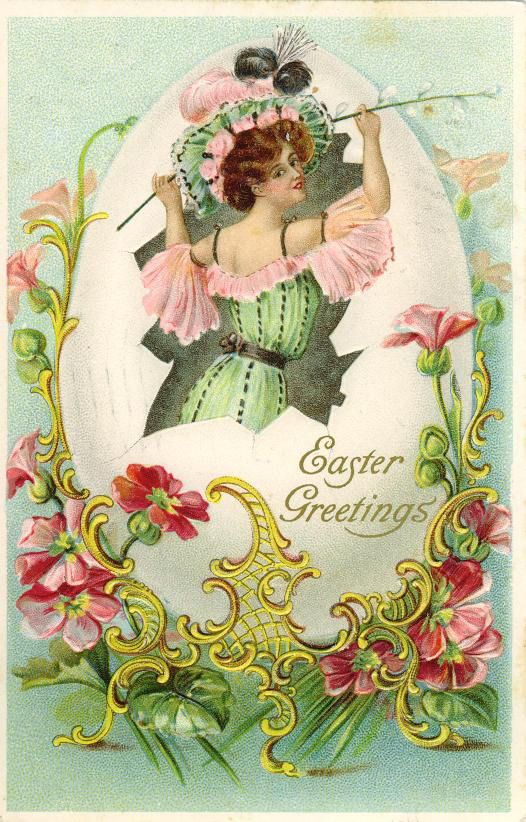 The Easter Parade and Woman's Equality
In 1929 George Washington Hill, president of the American Tobacco Company, paid Edward Bernays (generally regarded as the founder of the PR Industry) to launch a PR campaign to make it fashionable for women to smoke. At the time, smoking was an act that was exclusively equated with men. It was considered unfeminine and inappropriate for women to smoke; besides the occasional prostitute, virtually no women participated in the act publicly.
Bernays' now legendary campaign was called the: "Torches of Liberty Contingent". He arranged for New York City débutantes to march in that New York Easter Day Parade, defiantly smoking cigarettes as a statement of rebellion against the norms of a male-dominated society. Publicity photos of these beautiful fashion models smoking "Torches of Liberty" were sent to various media outlets and appeared worldwide. As a result, the taboo was dissolved and many women were led to associate the act of smoking with female liberation. Some women went so far as to demand membership in all-male smoking clubs, a highly controversial act at the time.
So perhaps we should start putting chocolate cigarettes into Easter baskets to celebrate equal rights.
6 Ways to Make Easter Better1.
Better Easter music. (We could all get a special Easter present of a new album from Adam tomorrow! The music doesn't need to have anything to do with Easter just be there as a surprise for Easter morning.  )
2.
Once you turn 21, instead of getting dyed eggs in your Easter basket, you get jewelry. (But the chocolate still arrives.)
3.
A law is passed the prohibits serving raisin sauce with ham – on any day – including Easter.
4.
ABC decides to add a live TV variety show to their Easter programming starring GN Adam Lambert.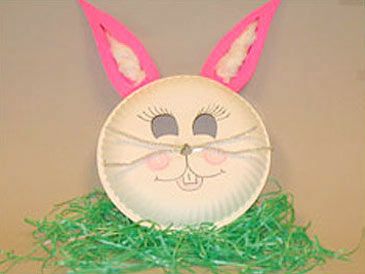 5.
The US Department of Education and NASA are tasked with creating better Easter craft projects.
6.
Easter's traditional pastel color palette is replaced with flamboyant, bright colors and loads of glitter.
***
The Play's The Thing
4/24/11 by
NoAngel
"That little moment where his eyes clear and he smiles, that's become my favorite part of the show each week, because you remember you're allowed to breathe and that all of this is just pretend." ~ Jacob at Television Without Pity, about Adam's "Feeling Good" performance on AI8
Adam inspired some of Jacob's best writing, and this quote captures quite perfectly the magic that is Adam. So often fans have made the same observation—how much we love that moment onstage when Adam transitions from fierce, intense, and larger-than-life, to… Adam. Smiling, playful, and real. And we stop freaking out over the wild craziness that we've been witnessing, and just look at him and smile back, blissed-out and reassured. That ability to transition from persona to person is what makes Adam so fascinating to watch and also so easy to like.
As Adam seeks his vision for Era 2, we get to see him experimenting. He talks about less glitter and more leather, and sure enough, that's what we've seen with his outfits lately. But the man in the interviews is still the Adam we've come to know—articulate, smart, silly, and sweet.
He reminds us constantly that nothing is constant, and that he loves to try new things. And he shares his process with us. Instead of figuring out his next persona and emerging fully-formed, he lets us in on his creative journey and invites us behind the curtain to see the man at work, or should I say, at play. The spirit of child-Adam who played year-round with his dress-up box lives on in the man who changes his look radically from one appearance to the next. The enthusiasm and joy of experimentation is still there, even though his audience has grown just a ~bit.
This is what is so special about Adam—his sense of play and his sense of humor allows him to try on a variety of personas to suit the occasion and his mood. And his strong sense of identity allows him to drop the costumes altogether in favor of just being himself, in casual clothes or even (sorry,
Q3
) a pair of ridiculous board shorts.
It is inevitable that Adam has been and likely will continue to be compared to Gaga. They share a theatrical sensibility and a love for visuals that supplement their music. But comparisons fail to see a key difference between the two of them—Lady Gaga takes herself very seriously, and expects us to do so as well. She chooses to obscure her "real" self in favor of projecting a crafted image, not only onstage, but also off. Gaga is a living, breathing work of performance art and I have no doubt that she is utterly sincere in her vision. This is her choice, and I respect her right to create and present herself in this way. It is brave of her, and it is interesting to watch.
Adam, on the other hand, refuses to take himself seriously, and reminds us constantly that it is not that deep. The common thread running through all the different looks and styles he's shown us is an irrepressible sense of fun. Adam's enthusiasm is infectious and he makes us want to play right along with him. He is as much an artist as is Gaga, but he is one who will happily show you how he mixed the paint. And at the end of the day, he'll scrape off the colors and show you the canvas as well.
I never worry that Adam will lose himself along the way, or that his true self will drown in a persona. He reassures me with that joyful smile, and because I know he's having a great time, I do too.
***
The MASSIVE 2 Million Twitter Follower Contest
4.24.11 by Q3
Arm your calculators! Get ready for Round Two! Or should that be Round 2,000,000
Lock in your bets now. You have until April 30, 2011 to predict when you think Adam will hit 2,000,000 followers. The winner of this round will receive a copy of Adam Lambert's second studio album – title, "TBD".
The rules:
ALL PREDICTIONS MUST BE POSED IN THE DAILY NEWS THREAD BEFORE 11:59PM PT APRIL 30, 2011!
• All times are Adam Standard Time (US PT - Los Angeles)
• The AT Member who is closest to the time will be the winner.
• In the case of an exact tie, I will declare two winners! And I will distribute two albums!
Predictions posted before 12:45PM Adam Daylight Time on 4.24.11 -- all predictions in Adam Time.
aurora
Friday, July 29, 2011 10:00 PM
wonderstruck
Tuesday, October 04, 2011 8:32 PM
kittykay
Wednesday, October 19, 2011 3:33 AM
evergreen
Monday, October 31, 2011 11:59 PM
Wal
Tuesday, November 01, 2011 9:00 PM
tinafea
Monday, November 07, 2011 11:07 PM
m45maia
Tuesday, November 08, 2011 10:43 AM
conjr
Friday, November 11, 2011 11:11 PM
stampsgal
Monday, November 14, 2011 11:00 PM
ileanne
Wednesday, November 16, 2011 10:00 PM
LindaG23
Sunday, November 20, 2011 8:11 PM
maitospf
Wednesday, November 23, 2011 11:00 PM
glamnana
Monday, November 28, 2011 11:00 PM
SusieFierce
Tuesday, November 29, 2011 9:30 PM
djett
Thursday, December 01, 2011 10:00 PM
holst
Thursday, December 01, 2011 12:00 PM
rama
Tuesday, December 06, 2011 6:00 PM
JazzRocks
Saturday, December 10, 2011 11:30 PM
adamrocks
Sunday, December 11, 2011 3:00 PM
chameleon
Monday, December 12, 2011 9:00 AM
kapsiz
Wednesday, December 14, 2011 3:00 PM
ladyoz
Wednesday, December 14, 2011 11:00 PM
libralamb7pf
Thursday, December 15, 2011 10:07 PM
gracefuladam
Friday, December 16, 2011 10:30 PM
las
Saturday, December 17, 2011 2:00 PM
bamafan
Sunday, December 18, 2011 3:00 PM
smargie75
Tuesday, December 20, 2011 10:00 PM
shadow
Wednesday, December 21, 2011 9:30 PM
cayman
Thursday, December 22, 2011 12:00 AM
FanOfTheMan
Saturday, December 24, 2011 8:30 PM
8toinfinity
Thursday, December 29, 2011 6:00 PM
solar1
Saturday, December 31, 2011 2:00 AM
didilynn
Saturday, December 31, 2011 11:59 PM
adamfanem
Sunday, January 01, 2012 11:59 PM
pjd
Monday, January 02, 2012 4:00 PM
PollyP78
Wednesday, January 04, 2012 12:33 AM
cookeejar
Thursday, January 05, 2012 4:15 PM
Jojo
Thursday, January 05, 2012 9:42 PM
feelalive
Monday, January 09, 2012 7:00 PM
shev66
Thursday, January 12, 2012 8:32 PM
quietlion
Friday, January 13, 2012 8:00 PM
sk_PF
Friday, January 20, 2012 10:00 PM
4EverAdam
Sunday, January 22, 2012 10:00 PM
crazylady
Tuesday, January 24, 2012 9:00 PM
sandysva
Thursday, January 26, 2012 10:00 AM
littledarkangelpf
Saturday, January 28, 2012 9:01 AM
irish1139
Sunday, January 29, 2012 1:20 AM
counselor
Sunday, January 29, 2012 12:00 AM
nica575
Sunday, January 29, 2012 7:00 PM
stardust
Sunday, January 29, 2012 9:00 PM
carla
Monday, January 30, 2012 12:00 AM
Lulu2365
Wednesday, February 01, 2012 1:00 PM
HeShouldaWon
Thursday, February 02, 2012 2:22 PM
durberville
Sunday, February 05, 2012 9:00 AM
justgill
Tuesday, February 07, 2012 10.32 PM
adamuse
Friday, February 10, 2012 9:00 PM
justright
Sunday, February 12, 2012 12:00 AM
willowgarden
Tuesday, February 14, 2012 9:00 PM
savvy92pf
Tuesday, February 14, 2012 10:00 PM
myspencer50
Thursday, February 16, 2012 5:00 PM
laceyrose
Thursday, February 16, 2012 9:00 PM
midwifespal
Friday, February 17, 2012 11:00 PM
needacoke
Monday, February 20, 2012 1:30 PM
chunkeymonkey81
Monday, February 20, 2012 10:00 PM
motoki
Friday, February 24, 2012 9:00 PM
wiga
Sunday, February 26, 2012 9:45 PM
agnelle
Tuesday, February 28, 2012 11:59 PM
ttj17
Wednesday, February 29, 2012 9:00 PM
prism
Monday, March 05, 2012 3:00 PM
lynne
Sunday, March 11, 2012 need time???
Q3
Wednesday, March 21, 2012 11:12 PM
amw
Wednesday, March 21, 2012 12:00 PM
geezlouise
Friday, March 23, 2012 9:00 PM
Murly
Monday, March 26, 2012 7:30 AM
Spring2009
Thursday, March 29, 2012 need time???
cheriemelissa
Friday, April 13, 2012 4:50 PM
4Msrmyn
Sunday, April 22, 2012 11:59 PM
flowergirl
Tuesday, April 24, 2012 8:55 PM
jadedzpf
Saturday, May 05, 2012 11:54 AM
miachihu
Saturday, May 26, 2012 3:00 PM
kayko
Monday, May 28, 2012 11:00 PM
mayumi
Sunday, June 10, 2012 4:07 PM
kagmel
Monday, June 11, 2012 3:20 PM
montanagirl
Friday, June 15, 2012 7:00 PM
skylar
Friday, June 15, 2012 need time???
gabby
Saturday, September 29, 2012 10:00 PM
m45maia
Thursday, November 08, 2012 need time???
lindy
Monday, November 19, 2012 9:00 PM
lynneville
Friday, November 30, 2012 11:00 PM
maria22pf
Friday, December 14, 2012 12:00 PM
aloha
Need a new time and date. One selected already taken.
Other Adam news….
4.23.11 by Q3
Chris Brown – MJ – Adam ---- I like seeing Adam on the same level as mega-selling pop stars but this is an odd set of three people.
Adam retail promo poster from Philippines
4.22.11 from Twitter philamberts
Huge Adam Lambert Glam Nation Live DVD poster at Astroplus Megamall (via @philamberts)
Adam in the USA Today Sunder Insert
Insert ran 4.23.11-4.24.11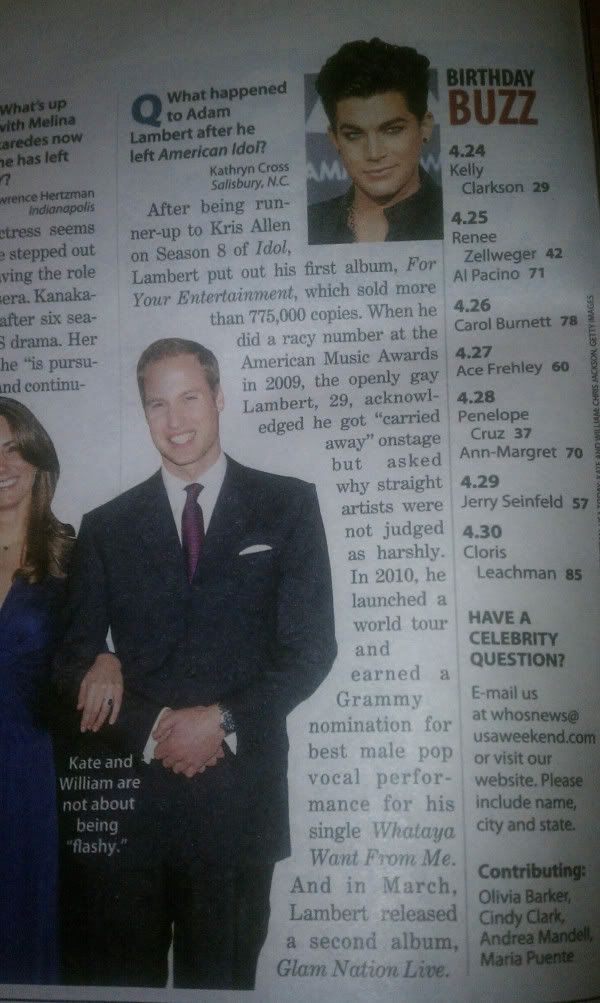 @cindym421 USA weekend blurb on Adam:
t.co/KWKX6Yh
Vote for Adam in the MTV OMAs
4.19.11 by Q3
You can vote up to 10 times a day by EACH voting method – 10 times a day using vote from the site, 10 times a day from twitter, 10 times a day from Facebook, plus 10 times a day by mobile text.
Voting closed April 17 at 12 midnight:
[/color]
Must Follow Artist on Twitter ---
omusicawards.com/vote/must-follow-artist-twitter/
Voting closed April 22 at 12 midnight:
[/color]
Favorite F**k Yeah Tumblr ---
www.omusicawards.com/vote/favorite-fk-yeah-tumblr/
Best Remix --- Billboard Aftermath Remix:
omusicawards.com/vote/best-remix/
Voting closes April 25 at 12 midnight (technically 4.26.11) ET for the following category:
Fan Army FTW ---
www.omusicawards.com/vote/fan-army-ftw/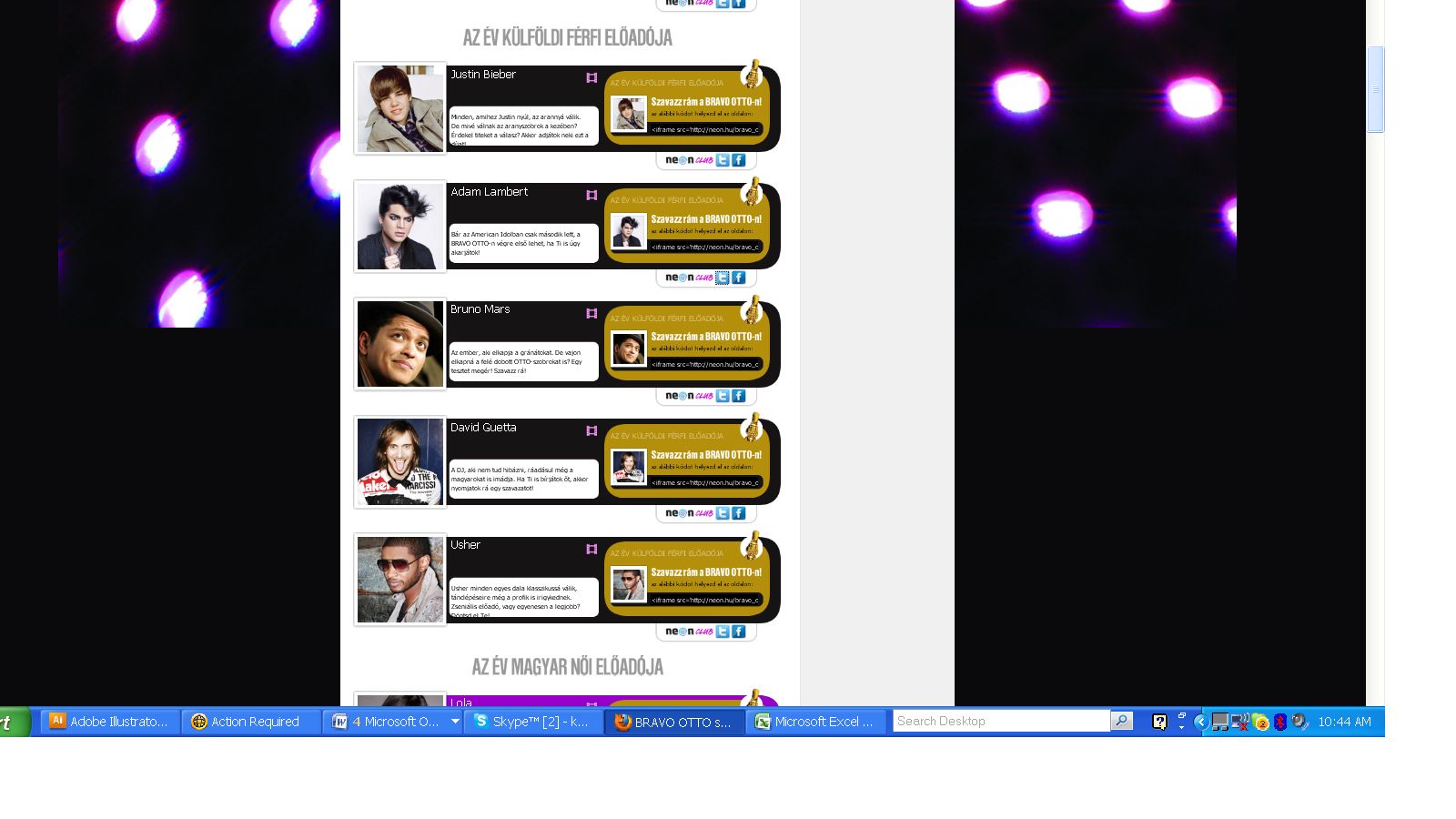 Vote for Adam – in Hungarian!Adam is Nominated for International Man of the Year Bravo Otto Music Award
4.24.11 by Q3
Link to ballot:
neon.hu/bravo_otto_szavazas
It is hard to vote on this site if you do not read Hungarian. But they get credit from me for create a pretty un-spamable online ballot. In addition, it is a vote-once poll where you can only vote one time per registration.
The site is in Hungarian which I do not speak but (thanks to Google Translate) here is my attempt to explain how to vote if you do not read Hungarian.
In order to cast a vote, you must register and be logged in!
1. Register:
Register here: (translated to English)
translate.google.com/translate?hl=en&sl=hu&u=http://neon.hu/bravo_otto_szavazas&ei=1_SyTe7ONcfb0QHGv5ThDw&sa=X&oi=translate&ct=result&resnum=1&sqi=2&ved=0CB4Q7gEwAA&prev=/search%3Fq%3Dhttp://neon.hu/bravo_otto_szavazas%26hl%3Den%26prmd%3Divns
In Hungarian:
neon.hu/regisztracio
2. Confirm your registration from the link in your email confirmation. You will go to a profile form which you can choose to leave blank. Hit the submit button at the bottom of the page.
3. You can now go to the voting page and vote. You have to vote in every category, plus write the BRAVO Award IDOL section --- and answer the question: "Who was the Hungarian celebrity iconic figure in 2010 and why?"
Upcoming EventsNOW: The Trevor Project version of "Aftermath" released for sale.
On sale at AdamOfficial.com
NOW: GNT Concert DVD to be released in North America, Germany, Australia, many other countries.

NOW: Aftermath Remix on sale on iTunes!
4.24.11 Adam mentioned in the USA Weekend supplement including a reference Glamnation DVD
4.27.11 Glam Nation Tour Live (CD+DVD) released in Japan, CD has 2 bonus tracks
5.10.11 Glam Nation Live - Blu-ray Disc released in US.
5.25.11 - 5.28.11 Adam may be performing in Russia.
Late Summer 2011 New single released
October-November 2011 Adam's second album released
Things to watch for
[/size][/b]
deb_forman Debbie Forman
My future sister-in-law's cousin interviewed @adamlambert today for People magazine. I'm not too sour that I just found this out...
4.21.11 from Twitter
Help Keep Adamtopia a Great Place
Adamtopia is a labor of love -- meaning no one makes any money on this site. So our staff are all volunteers. Be nice to the moderators, they make this forum a pleasant place
We don't have a lot of rules here but they are essential. Just as a reminder...
The Adamtopia guidelines are quite simple. To be a member of Adamtopia...

1. You must be an Adam fan.

2. You must be respectful of other members. Feel free to express you opinion, but be glitterier and golden.

3. Strive to be funny, entertaining or informative when you post. Avoid posting something that has already been posted.

4. Never question anyone's right to post, the appropriateness of a topic or define the proper what for an Adam fan or Adamtopia Member to behave. Let the moderators do their job.

More rules will be added if the need arises but, if everyone follows there these rules, we will not need a lot of rules.


Comment or read more here: adamtopia.com/index.cgi?board=guidelines&action=display&thread=10#ixzz1EwvDLF8D