Post by Q3 on May 8, 2011 22:24:34 GMT -5
Adam leaving the Prince Concert Los Angeles, CA 5.7.11
"My Guy"
5.8.11 from Adam Lambert Twitter
Adam Lambert: #LambertDay was surreal. Saw Prince down at the forum! Danced our assesoff. Happy MOMS Day!!
Adam Lambert: Happy Mothers Day. Look- we're pouting the same. Must be where I get it from... Ha
say.ly/mKTjnU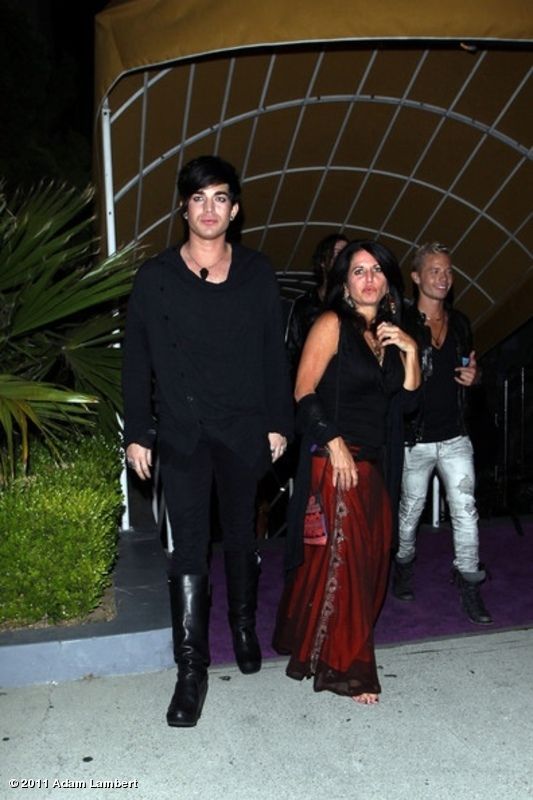 Adam Lambert: MDAY BRUNCH with my Mom, my guy and @scarlettcherry, @leecherry and @riffcherry!
Adam Lambert: (brunch went LOOOOONG- thank you bloody marys!)
This video is dedicated to Sauli:
Top 10 Reasons We Love Adam
5.9.11 by Q3
There are so many reasons that I love Adam that it is hard to pick just ten. But here is my attempt.
#10
He speaks his mind
#9
He has a great sense of humor!
#8
He is Adam Fucking Lambert!
I doubt anyone really knows the first time Adam was publically referred to as "Adam Fucking Lambert" but it was used in March 2009 in some blog posts deriding Adam – and intended as an insult. Like many other attempts to insult Adam and his fans, the name was embraced and owned by fans. It was shortened to AFL, and was in frequent use by February 2010.
TICKETS MAY OR MAY NOT BE ON SALE TODAY!!!!!
Members-Only Thread for Quebec Festival
5.9.11 by Q3
Ticket may go on sale later today – but may not be on sale until Tuesday.
People who know the venue recommend buying tickets in the Privilege Zone which has standing room for 500 to 1000, closer to the stage, the bathrooms, and the vendors. There is a one-week pass for the festival -- but you do not have to buy that to see Adam.
There is a thread where members can share information about the Quebec Festival. Remember, this is "Members-only" but information can easily become public. Please use PMs and other private communications to exchange contact information.
Link to thread:
www.adamtopia.com/index.cgi?action=display&board=membersonly&thread=305
Name Adam's Next Album
5.8.11 by Q3
Post your ideas in the thread. I will unilaterally pick the best for a Members vote once survey to pick…
1. The title we want Adam to pick for Adam #2
2. The most humorous title for Adam #2
3. The title that we are least likely to see on Adam #2
I will award 3 albums based on the Adamtopia Member vote.
The rules:
• Enter as many times as you want.
• All entries must be posted in the News Thread by 5/16/11.
• I will select the titles for the survey by 5/20/11. The decision on what titles to include on the survey will be final.
• Survey will run from 5/20/11 until 5/30/11. The title with the most votes in each category will be the winner.
• Campaigning and attempting to influence voters is allowed.
• In the case of an exact tie, I will declare two winners! And I will distribute two albums! For that category.
Upcoming EventsNOW: The Trevor Project version of "Aftermath" released for sale.
On sale at AdamOfficial.com
NOW: GNT Concert DVD to be released in North America, Germany, Australia, many other countries.

NOW: Aftermath Remix on sale on iTunes!TICKETS MAY BE ON SALE TODAY or TUESDAY!! Tickets for concert at the St. Agathe en Feux Festival in Sainte-Agathe-des-Monts, QC go on sale. No presale. Festival concert.
5.10.11 Glam Nation Live - Blu-ray Disc released in US.
5.28.11 Adam performing in Moscow, Russia. Maxidrom Festival - Toshino Airfield
More info:
www.maxidrom.ru/news/?news_id=3624
Buy tickets @adamlambert Russia Maxidrom show AO link: www.adamofficial.com/ca/event/2011/05/28/maxidrom-festival-toshino-airfield
7.29.11 Adam performs at the St. Agathe en Feux Festival in Sainte-Agathe-des-Monts, QC, festival concert.
Late Summer 2011 New single released
October-November 2011 Adam's second album released
Help Keep Adamtopia a Great Place
Adamtopia is a labor of love -- meaning no one makes any money on this site. So our staff are all volunteers. Be nice to the moderators, they make this forum a pleasant place
We don't have a lot of rules here but they are essential. Just as a reminder...
The Adamtopia guidelines are quite simple. To be a member of Adamtopia...

1. You must be an Adam fan.

2. You must be respectful of other members. Feel free to express you opinion, but be glitterier and golden.

3. Strive to be funny, entertaining or informative when you post. Avoid posting something that has already been posted.

4. Never question anyone's right to post, the appropriateness of a topic or define the proper what for an Adam fan or Adamtopia Member to behave. Let the moderators do their job.

More rules will be added if the need arises but, if everyone follows there these rules, we will not need a lot of rules.


Comment or read more here: adamtopia.com/index.cgi?board=guidelines&action=display&thread=10#ixzz1EwvDLF8D