Post by girldrummer on Mar 11, 2019 10:59:49 GMT -5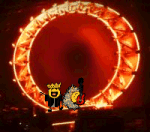 I can definitely see her appeal, especially for people tired of the pop divas, but I really can't see her and Adam singing together...such totally different voices and styles.

Her voice and style are okay. But it makes me wonder why fans are always trying to find someone for Adam to sing with. He met her and probably could set something up if he wanted so fan intervention is not needed. I want to hear more music from Adam and see where his career will go. Other singers, dancers, friends are nice but I don't really have a major interest in them. He is very good on his own and doesn't always need others for validation. HE has been in demand recently. So much exciting happening for him and for Queen and Adam. Can't wait to see what HIS plans are.
I listened, too, and to me, her voice is nothing to write home about. But, as we know, the voice is obviously not the only reason why fans love a singer. There is something about her that her fans love. I do like the fact that he has connected publicly with another singer with a pretty large loyal fan base which has now been more exposed to Adam. Who knows? Maybe they will perform together at some point. It probably won't hurt either one of them, and it might help to reach a combined fan base. They are very different, but Adam makes everything work in a duet situation. Just the buzz that their little meet-up has created in a nice thing.
Also, I need a little clarification. There was a previous thread that had a paragraph by Brad Lindsay, who has performed with Adam. And he mentioned Adam performing at the ASICS World Series of Beach Volleyball. That's an old performance, right? There was no date on the post, at least that I could see. I assume he was referring to a few years ago. Just making sure.
And just a bit more on Adam and LP. I agree, lurleene. Ideally, Adam is at his best as a strong solo act. That's what I want to see him continue to do. Sure, artists often join up with others now and then for a duet or something, but Adam is one of those dominant, stage-filling singers who is at his best when the spotlight stays on him. JMO.