Post by cassie on Jul 15, 2019 7:30:06 GMT -5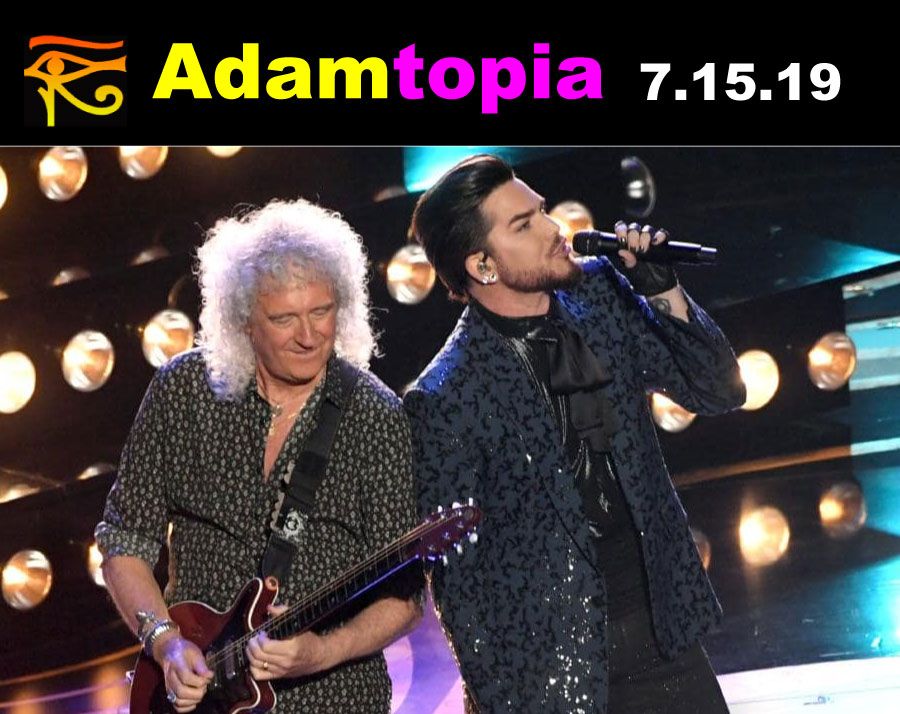 Brian, that gentle, sweet, calm soul has had enough of the critics complaining about Adam. In his instagram he explained that Adam is the reason they are still performing live as a band. And then he added that they would NEVER want to perform with a Freddie imitation.
brianmayforreal
Verified
And here is the Modern Marvel without whom, for sure, Queen would not be out here delivering at the top level. ADAM LAMBERT is only now beginning to be recognised by the greater public as the true phenomenon that he is. Gifted with a voice in a billion, for himself he is a passionate and unyielding perfectionist. Gifted to us, he is the reason that we are still alive as a functioning rock band. And still able to take on new challenges. Plus ... he's nice. That's a big deal when you're a touring family. Freddie would approve, big time. TONITE !!! For One Night Only ! San Jose !!! Are ya ready ?!!! 💥💥💥💥 THANKS @alalwayz on Twitter for this photo. 💥💥💥💥💥 Also, and I will say this only once, for the benefit of just a few people who haven't stopped to think clearly. Just imagine how awful it would have been for Roger and myself to tour with a Freddie impersonator. Anyone who suggests such a thing doesn't belong here. To the vast majority of you lovely people out there - BIG THANKS for being respectful to Adam. In supporting him, you are supporting the life blood of the live Queen legacy. Nothing is forever. This is a precious moment. We never pass this way again. Bri
But he didn't stop there! One reviewer of the SAn Jose concert said it was basically a tribute band doing covers. Totally trivializing Brian and Roger and their work. Brain was not going to stand for that!
"Me and my Bro' say THANKS San Jose for a great welcome tonight. Me and my Bro' might disagree about anything you care to name, but we have learned mutual respect over the years, and somehow when we play together, some kind of magic still happens. All hail Rog !!! We are proud of what we are, an ouvre we have worked for nearly 50 years to create and constantly update. I have to say that being called a 'tribute band' by some half-assed critic in the local paper is an insult I will not quickly forget. We don't need your condescension, Sonny Jim. That's my life's work you're dismissing there. I guess you're the only one who didn't really 'get it' in that wonderful rockin' crowd tonight in the good ol' SAP Center. I can still hear your roar, folks, ringing in my ears. Bless ya'all. Bri"
YOU TELL 'EM, DOCTOR BRIAN!
QAL North American Tour 2019
10 Jul Vancouver, BC Rogers Arena

12 Jul Tacoma, WA Tacoma Dome

14 Jul San Jose, CA SAP Center

16 Jul Phoenix, AZ Talking Stick Resort Arena
19 Jul Los Angeles, CA The Forum
20 Jul Los Angeles, CA The Forum
23 Jul Dallas, TX American Airlines Center
24 Jul Houston, TX Toyota Center
27 Jul Detroit, MI Little Caesars Arena
28 Jul Toronto, ON Scotiabank Arena
30 Jul Washington, DC Capital One Arena
31 Jul Pittsburgh, PA PPG Paints Arena
03 Aug Philadelphia, PA Wells Fargo Center
04 Aug Boston, MA Xfinity Center
06 Aug New York, NY Madison Square Garden
07 Aug New York, NY Madison Square Garden
09 Aug Chicago, IL United Center
10 Aug St. Paul, MN Xcel Energy Center
13 Aug Columbus, OH Nationwide Arena
15 Aug Nashville, TN Bridgestone Arena
17 Aug Ft. Lauderdale, FL BB&T Center
18 Aug Tampa, FL Amalie Arena
20 Aug New Orleans, LA Smoothie King Center
22 Aug Atlanta, GA State Farm Arena
23 Aug Charlotte, NC Spectrum Center