Post by Q3 on Nov 20, 2019 23:47:02 GMT -5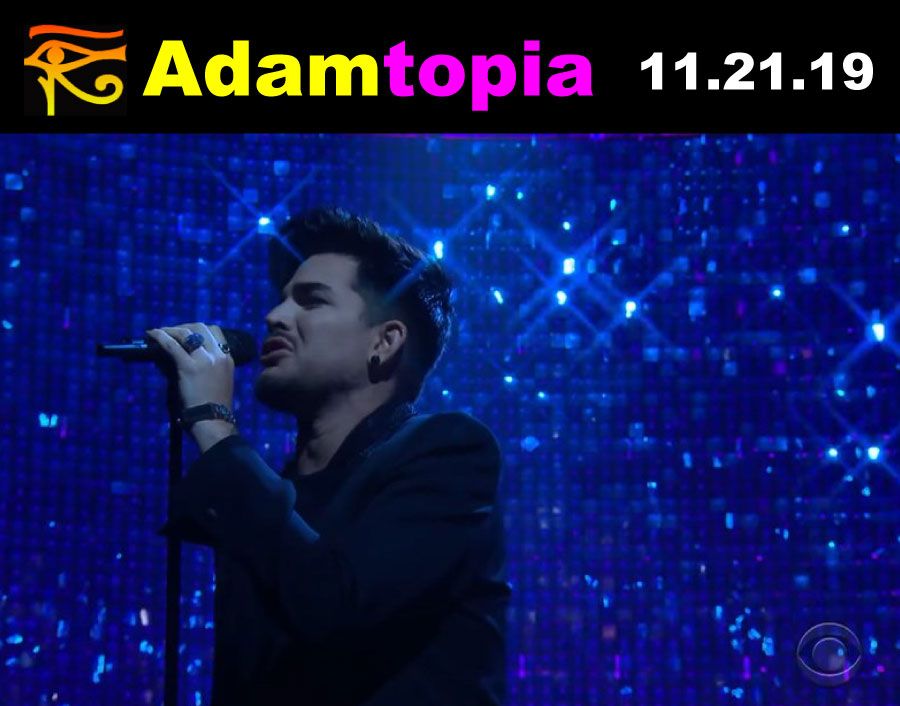 Adam Lambert, fireworks and tree lightings will spark Light Up Night
Scott Mervis, Pittsburgh Post-Gazette
[email protected]
Nov 19, 2019
7:12 AM
Adam Lambert, who wrapped his blockbuster tour with Queen + Adam Lambert in September, steps out of Freddie Mercury's shoes and back into his own on a solo tour that brings him into the heart of Comcast Light Up Night on Friday.
Lambert, who grew up as a musical theater kid in San Diego, came to fame in 2009 on season 8 of "American Idol," where he fell a few votes short in a highly contested matchup with the less exciting Kris Allen.
Lambert's biggest success as a solo artist was the 2009 pop-rock single "Whataya Want from Me," which, let's face it, was kind of whiny and annoying. Eventually, Queen came to the rescue. He did his first shows with the members of the legendary British glam band in 2012 and has toured with them ever since. Pittsburghers got their first look at that fab production at the PPG Paints Arena in July.
In September, Lambert jumped back into his solo work with the album "Velvet," led by a single, "Superpower," that falls somewhere between Queen and Prince.
"I've followed my instincts and intuition more than ever with 'Velvet,'" he said in a statement, "leaning into truly musical influences from the '70s, early '80s and contemporary pop. It honors what made me want to be a musician in the first place."
This appearance at the Light Up Night, headlining the main stage at Fort Duquesne Boulevard and Stanwix Street at 8:30 p.m., will be his first solo show here since rocking Pittsburgh Pride in 2013.
For some true, made-in-Pittsburgh rock 'n' roll, it's worth getting to that stage at 6 p.m. for The Nox Boys, followed by the legendary Joe Grushecky and the Houserockers, who have become Light Up Night regulars.
Among the other musical highlights will be charismatic dance-funk band Beauty Slap and MCG Jazz Presents: Celebrating The Music of Fred Rogers, with special appearances by Daniel Tiger, featuring pianist Daniel May, bassist Dwayne Dolphin, drummer George Heid III and singer Chantal Joseph.
Light Up Night revelers are invited to pop into Heinz Hall, where the Pittsburgh Symphony Orchestra, recently back from a European tour, will play several free mini-concerts beginning at 6:30 p.m.
The first piece of Light Up Night begins at noon with the dedication of the creche at the U.S. Steel Building and concludes with the BNY Mellon Fireworks Finale at 9:30 p.m. with music broadcast live on Q92.9 FM. The best place to see the fireworks will be on Fort Duquesne Boulevard between Sixth and Stanwix Streets.
Don't go looking for the Gingerbread House Display and Competition at the PPG Wintergarden. It's moving this year to the Grand Lobby of the City-County Building on Grant Street, but you can still find the Spirits of Giving Around the World Santa display at PPG Place.
For the eighth year, the Peoples Gas Holiday Market returns to Market Square — a European-inspired Christmas village with more than 30 vendors in Alpine-style chalets. While there, you can gaze at the BNY Mellon Season of Lights show, running every half hour with 150,000 lights and a 35-foot tall tree choreographed to a medley of holiday tunes.
Elsewhere, the Xfinity Experience promises to turn the Clemente Bridge into a winter wonderland with complimentary hot chocolate; the Rink at PPG Place will be up and running; and Fifth Avenue Place, One Oxford Centre and PPG Place will present their own free musical and family activities.
The pedestrian promenade with food booths and vendors is at Fort Duquesne Boulevard between Sixth and Stanwix Streets, and food trucks can be found at EQT Plaza on Liberty Avenue, at the Penn Avenue Extension near Gateway Plaza, and on Fort Duquesne Boulevard at Sixth Street.
Finally, look for the Comcast Street Team giving away Santa hats and, on Twitter and Instagram, use the hashtag #LUN2019 to see your pictures and posts on jumbotrons around the city.
Here are schedules:
Comcast Main Stage
(Fort Duquesne Boulevard and Stanwix Street)
6 p.m.: The Nox Boys
7 p.m.: Joe Grushecky and The Houserockers
8:30 p.m.: Adam Lambert


BNY Mellon New Music Stage
(Penn Avenue and Stanwix Street)
6 p.m.: Beauty Slap
7 p.m.: Lighting of the Highmark Christmas Tree
7:30 p.m.: Tribe Eternal
8:30 p.m.: Krunk Movement

EQT Jazzmasters Stage
EQT Plaza, 625 Liberty Avenue
MCG Jazz Presents: Celebrating the Music of Fred Rogers with special appearances by Daniel Tiger at the EQT Plaza.
Official Tree Lightings and Ceremonies
Noon: U.S. Steel Tower Dedication of the Crèche
4:45 p.m.: Allegheny County Courthouse Tree & Tower Lighting
5:15 p.m.: City-County Building Tree Lighting
5:30 p.m.: PPG Plaza Tree Lighting
5:45 p.m.: One Oxford Centre Tree Lighting
5:45 p.m.: BNY Mellon Season of Lights Countdown
7:00 p.m.: Highmark Christmas Tree Lighting with Rooftop Fireworks and Jumbotron Show
Trust Oasis
6-10 p.m.: Live DJ performances in the Pittsburgh Cultural Trust's pop-up art experience at 133 Seventh St. featuring temporary, large-scale installations.
BLAST! Party
The Pittsburgh Downtown Partnership and Comcast present this VIP Party in the upper lobby of the U.S. Steel Tower. Guests will have the rare opportunity to go on the roof of the Steel Building (weather permitting) at this ticketed event featuring signature cocktails, fine foods, desserts and entertainment. To purchase tickets, visit DowntownPittsburgh.com/Holidays.
PPG Place
4:45-5 p.m.: Robert Morris University Island Sports Figure Skating kick off the holiday season with a performance.
5-5:30 p.m.: East End Kids (musical theater)
5:30-6 p.m. American Cancer Society's Tribute of Light/Plaza Tree Lighting with more than 300 people carrying hand-held Tribute of Light memorials, dedicated to someone touched by cancer. Five-year-old cancer survivor Philip Steigerwald of Franklin will light the Christmas tree.
6-7 p.m.: Byron Nash (rock)
Through 9:30 p.m.: The Spirit of Giving from Around the World Exhibit display of 16 life-size Santas and original paintings depicting holiday traditions from around the globe at Two PPG Place and One PPG Place Lobby.
Holiday Market Stage at Market Square
5:45 p.m.: Santa flips the switch for the BNY Mellon Season of Lights. Show repeats every half hour.
Fifth Avenue Place

5-9 p.m.: Live ice carving shows by Rick Bubin of Ice Creations.

7-7:30 p.m.: Highmark Unity Tree Lighting with Rooftop Fireworks & Jumbotron Show, countdown with Mr. McFeely. At the Corner of Penn Avenue and Stanwix Street.



One Oxford Centre

5:45 p.m.: Tree Lighting and Santa's Arrival

6-9 p.m.: Free Horse-Drawn Carriage Rides. Pick up will be on Fourth Avenue. (Last ride at 8:45 p.m.)

6-9 p.m. Santa's reindeer and free activities, live music by Scott and Rosanna.

More details at DowntownPittsburgh.Com/Holidays


Calendar

December 5, 2019 Avicii Tribute Concert for Mental Health Awareness, Friends Arena Stockholm, Sweden
December 12, 2019 Adam headlines XLO's "Almost ACOUSTIC XMAS" show 8 p.m. in Mechanics Hall, 321 Main St. Worcester, MA

There will be a special pre-sale for WXLO listeners at 10 a.m. Oct. 17 (go to
www.WXLO.com
for more information). Tickets go on sale to the general public at 10 a.m. Oct. 18 at
www.mechanicshall.org
. Tickets are $49, $59 and $69.
December 2019 CBS's 21st annual A Home for the Holidays Special! Broadcast date to come; usually around December 21st. This year, the iconic special is hosted by Idina Menzel and features performances by Ne-Yo, Adam Lambert, Kelly Rowland, and Idina Menzel! Don't miss the holiday season's biggest show.


Adam solo concerts


December 15, 2019 Solo Concert Foxwoods Resort Casino Mashantucket, CT
December 16, 2019 Solo Concert Bowery Ballroom New York, NY
December 20, 2019 Solo Concert Fantasy Springs Resort Casino Indio, CA
December 21, 2019 Solo Concert El Rey Theatre Los Angeles, CA