Post by Q3 on May 21, 2020 1:07:41 GMT -5
http://instagr.am/p/B_ON2fnncpU
Adam Lambert has no idea when his For Your Entertainment album was released

He's not so hot on his Queen trivia either
APR 30, 2020 by Cosmopolitan UK
Adam Lambert answers trivia questions about American Idol, Simon Cowell, and Bohemian Rhapsody
Adam Lambert played a game of Cosmo UK's Trials and Trivialations from home.
The singer scored 5/11 (some of the questions were pretty hard, tbf)
How well will Adam Lambert do when asked questions about his own life and career? Brilliantly, right? Wrong! We put the singer to the test with a game of Trials and Trivialations and as well as testing him on his knowledge about his own music, we also chucked in some red carpet and Queen-related questions.
While he knew exactly what he wore to his first ever American Idol audition and what word Simon Cowell used to describe him after his performance, Adam doesn't appear to remember when he released his 2009 album For Your Entertainment.
It also looks like he needs to brush up a bit on his Queen knowledge as the singer doesn't know Brian May's middle name or where the music videos for 'We Will Rock You' and 'Spread Your Wings' were filmed.
"Clearly my memory is crap, as you're finding out," Adam admitted.
You said it, not us...
Link to article and video:
www.cosmopolitan.com/uk/entertainment/a32329406/adam-lambert-interview-trivia-cosmopolitan/?src=socialflowTW&utm_medium=social&utm_campaign=socialflowTW&utm_source=twitter
*****
The documentary "The Show Must Go On: The Queen + @adamlambert Story" will soon be available on @netflix!
Feel Something [email protected]_

We are happy to now offer the option for recurring donations through our website! Please visit
feelsomethingfoundation.org
to donate weekly, monthly, and more. Thank you all for your continued generous support!🙏🏻Rainbow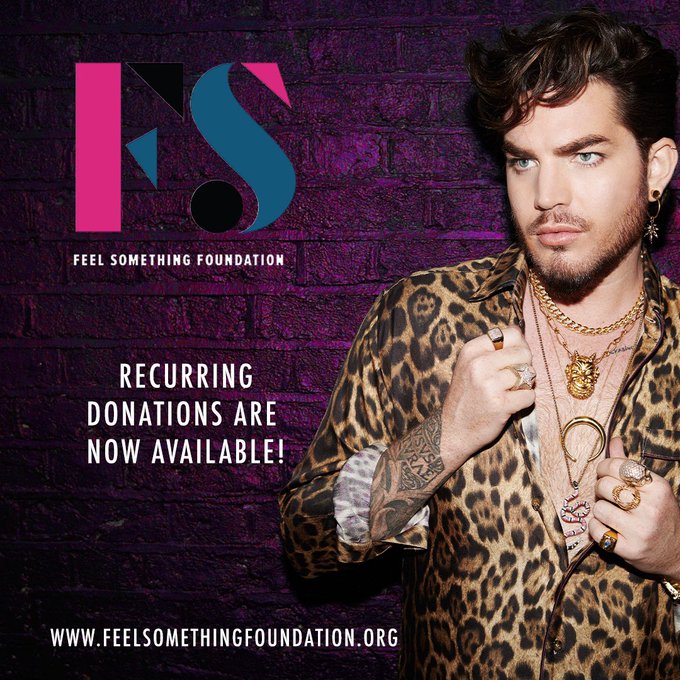 Brian May Talks Queen's 'Secret' Recording Sessions With Adam Lambert

By Eliot Hill
May 19, 2020
In a newly-released deleted scene from Sammy Hagar's AXS show, Rock & Roll Road Trip, Hagar spoke with Queen's Brian May to talk about all things songwriting.
As many know, singer Adam Lambert has collaborated with Queen since 2011 and has done a phenomenal job taking over vocals when the band goes on tour.
In the short interview, May revealed that, unbeknownst to fans, Queen and Lambert have actually recorded some music together … but there's one tiny catch. "We have recorded with Adam in secret, but we haven't felt it was right to put it out," he explained. "We didn't think we hit the right kind of vibe."
Which basically translates to the public never getting to hear the music they've recorded. Thankfully, we have their quarantined version of "We Are The Champions" to hold us over.
Link to article:
www.iheart.com/content/2020-05-19-brian-may-talks-queens-secret-recording-sessions-with-adam-lambert/
Video: