Post by babs on Aug 4, 2015 15:45:17 GMT -5
Here is how I explain this to my clients. Any chart is a representation of how the cosmos looked at a moment in time from our vantage point on earth. it is a geocentric point of view. Everything revolves around us. Imagine that!
Pretend you are lying in bed and looking up at your ceiling which has magically transformed into a huge window with twelve distinct window panes that look like this:
Note that there are four large window panes that form a big diamond and eight triangular window panes all around them. Effectively, these window panes are sectioning off all 12 directions - the four cardinal directions (east, west, north and south) and the eight intermediate directions. They are providing a grid by which we can map the cosmos at any moment in time. In this way, we can get oriented the way a street map used to orient us. However, instead of north being where you might think at the top of the diagram, it is rotated 90° so that east is where you would think north would be.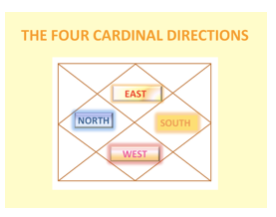 Once we get the hang of this diagram we can say "I don't need no GPS" and orient ourselves to this sky map.
Now take a deep breath for the next step. If we wanted to figure out how to communicate where the planets (called grahas in the Indian tradition) are at a particular time, we would have no trouble if Venus, for example, was in the East or Saturn was in the North. We would just say Venus is in the East and we would all understand that and where it would be located in the diagram. However, describing the directions symbolized by all the little triangles can get awkward. You would have to say something like Sun is in the in the South South West or Jupiter is in the East North East and that can be clumsy.
To take care of that, a convention arose of numbering the directions staring with the East as the first direction. Another convention came along to call each of the 12 directions "houses" (bhavas in the Indian tradition). When you actually encounter a "real" Vedic chart, the numbers you will see do NOT refer to the 12 directions or houses. It is a given that people who know this system already know that. I will explain later what the numbers you will see when we look at an actual chart refer to but for now, here is a diagram of the twelve houses or directions: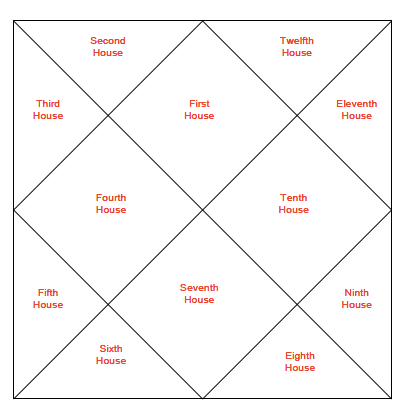 Your job now is to be able to point to any of the 12 directions and say what house number it is. This needs to become automatic before I introduce the next layer which will involve another set of numbers that will confuse you to no end if you don't already have the orientation of the 12 houses fixed in your heads.
Here is a sample chart . To test yourself, write down what house each planet is occupying. Don't worry if you don't understand the names of all the planets. PM me your answers so I know you are participating and can address any misunderstandings.
Next step coming soon.