Post by Q3 on Feb 26, 2013 0:03:17 GMT -5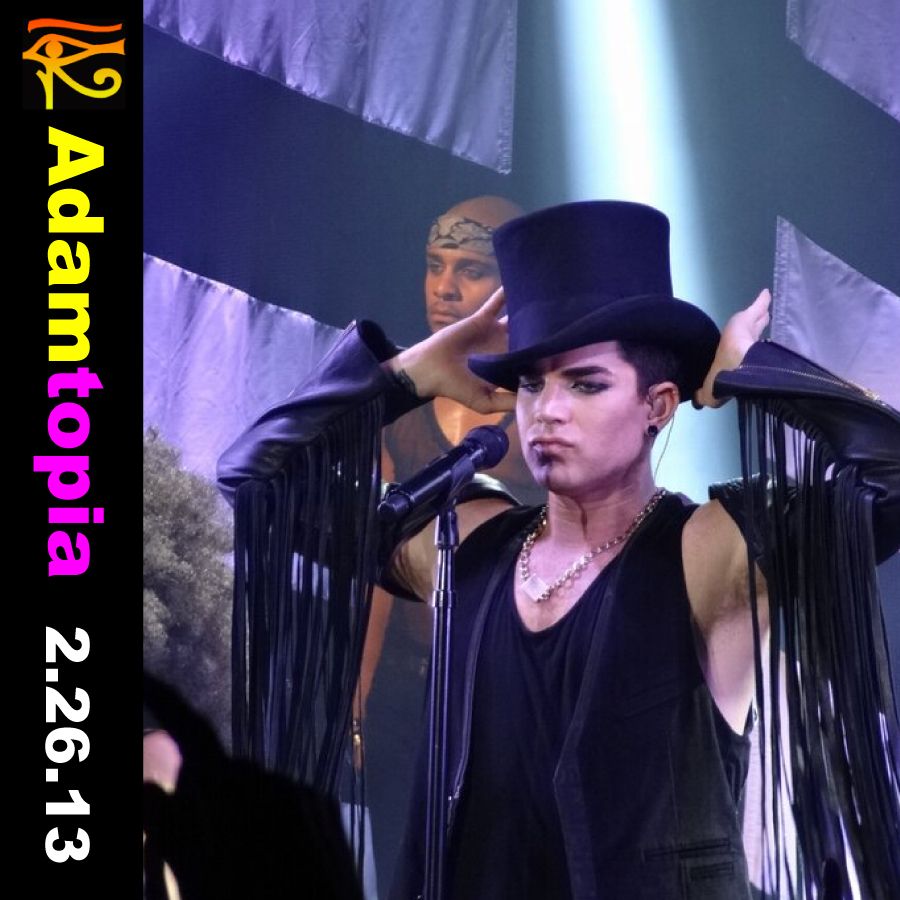 Photo in banner from @hirokoinkobe: ハットの角度変えるとこ好き RT @100e_ #WAG #nagoya pic.twitter.com/QjZngwNPxb
WAG TOUR: Osaka, Japan TODAY!!
Time:
Nagoya
, Japan at 7:00PM local - World Clock
(Americas: 5:00AM Eastern 4:00AM Central 2:00AM Pacific)

M&G 17:00 Doors open at 18:00 Show 19:00

Twitter List:
twitter.com/AdamLists/japantourosaka20130226
Venue:
Osaka Namba Hatch
Capacity: 1,500

Status: Sold Out


The Riddle601b Nagoya Videos!!All of the YouTube videos
are posted here:
atop.proboards.com/thread/1611/feb-2013-concert-recaps-japan
Download links MP3's:
Adam Lambert -Nagoya MP3 DL - Source: Riddle601b videos
∞ Mary, please ∞ (
scorpiobert
)
Posted Tuesday 26th February 2013 from Twitlonger
In set list order:
1. IIHY,NL,CK NCOE, MA
www.sendspace.com/filegroup/6BIxQAcjTvBRYwVsECZqSmu0NFYG8100
2. PTL, CH, BE,WWFM, Stay, Under,OOL, FYE
www.sendspace.com/filegroup/V+vfYaDw4ubb0IcOahFd7rhXBIKW85A1LjPTsAl1S8Zi96RnyHRlkXGCMveaMTq2
3. Fever, DA,Shady, TP
www.sendspace.com/filegroup/ezKjS9n4FBrI6zZpgFuNkbe2n9z88Y1a
Enjoy and many thanks to Riddle601b!
I bet everyone on this site gets at least 8 of 10 right!
2.26.13 by Q3
I think a lot of us will get 100% on this quiz. It is filled with pretty basic Adam Lambert questions. Not anywhere near the difficulty of a "Cassie Quiz"! But for a bit of fun, cause it is always great to get 100% on a test, try out the test from Ryan Seacrest's site.
Are You a Glambert? Take Our Adam Lambert Quiz!
ryanseacrest.com/2013/02/25/are-you-a-glambert-take-our-adam-lambert-quiz/
Adam Lambert stole our hearts years ago after appearing on American Idol and has not let us down since, releasing hit after hit like, "Whataya Want From Me" and "If I Had You" which blew up Billboard's Hot 100.
So now we want to you know…Are YOU a true Glambert? Take our quiz and find out!
Upcoming Events
Check the Adamtopia calendar for more events and links to more info.
The Mini-Tour
Date
Location
Venue
Capacity
Status
17-Feb-13, 7:00PM

Seoul, South Korea
AX Kroea
3,090
2,036 tickets offered,
1,924+ tickets sold

19-Feb-13; 7:00PM

Tokyo, Japan
Shibyua, Kokaidou
2,084
Sold Out

20-Feb-13; 7:00PM
Tokyo, Japan
Shibyua, Kokaidou
2,084
Sold Out

21-Feb-13; 7:00PM
Tokyo, Japan
Shibyua, Kokaidou
2,084
Sold Out

23-Feb-13
Kanazawa, Japan
Kanazawa City Hall
900
Sold Out

25-Feb-13
Nagoya, Japan
Club Diamond Hall
800
Sold Out

26-Feb-13
Osaka, Japan
Mamba Hatch
1,500
Close to Sold Out

1-Mar-13
SM City North Edsa, Philippines

Sky Dome
1,500
Cancelled

3-Mar-13

Shanghai, China
Mercedes-Benz Arena

Apx 5,000



Confirmed

5-Mar-13
Kowloon Bay, Kowloon,
Hong Kong
Star Hall

3,600

Confirmed
8-Mar-13, 8:00PM

Singapore
The Star Theater

5,000
Confirmed

10-Mar-13
Jakarta, Indonesia

Skenoo Exhibition Hall,
Gandaria City
5,000
Confirmed
15-Mar-13
Minsk, Belarus

Sports Palace

4.500

Confirmed

16-Mar-13
Moscow, Russia

Crocus City Concert Hall

6,200
Confirmed

18-Mar-13
Kiev, Ukraine
Kyiv Palace of Sports

10,000

Confirmed
20-Mar-13

St. Petersburg, Russia

Ice Palace
12,000

Confirmed
22-Mar-13
Helsinki, Finland
Hartwall Arena
13,000

Confirmed
Every Saturday from New Zealand -- Adam Lambert Hour -- Live 5:00PM EDT US.
Link: theflea.co.nz/
Check out the ALH page for podcast of previous shows.
This is the only weekly Adam Lambert show in the world.
Adamtopia News Thread
Adamtopia Daily News & Information thread is for discussing current news. Please keep the news focused on Adam news. Please try to follow all the site guidelines. And most importantly, stay glittery and golden.
Birthday greetings
may be posted on the first page of comments. After that, please post birthday greetings in the Member News Section or send a PM. Two members have been designated to post birthday greetings whenever they get here -- our Confectioner Extraordinaire (Reihmer) and our Humorist (soeulmate). Birthday thread: [/b][/font][/div][/strong][/a]
atop.proboards.com/board/10/birthday-greetings
Personal news and requests for advice
should be posted in the Member News thread:
atop.proboards.com/board/21/member-news-advice
Help Keep Adamtopia a Great Place
We don't have a lot of rules here but they are essential. Just as a reminder...
[/font]
Adamtopia Guidelines

The Adamtopia guidelines are quite simple. To be a member of Adamtopia...
1. You must be an Adam fan.
2. You must be respectful of other members. Feel free to express your opinion, but be glitterier and golden.
3. Strive to be funny, entertaining or informative when you post. Avoid posting something that has already been posted.
4. Never question anyone's right to post, the appropriateness of a topic or define the proper way for an Adam fan or Adamtopia Member to behave. Let the moderators do their job.
More rules will be added if the need arises but, if everyone follows these rules, we will not need a lot of rules.
Read more.
Happy Birthday flashus, moettajo, omy84, youarebetterer and yuki!!!