Post by tinafea on Mar 3, 2013 18:07:19 GMT -5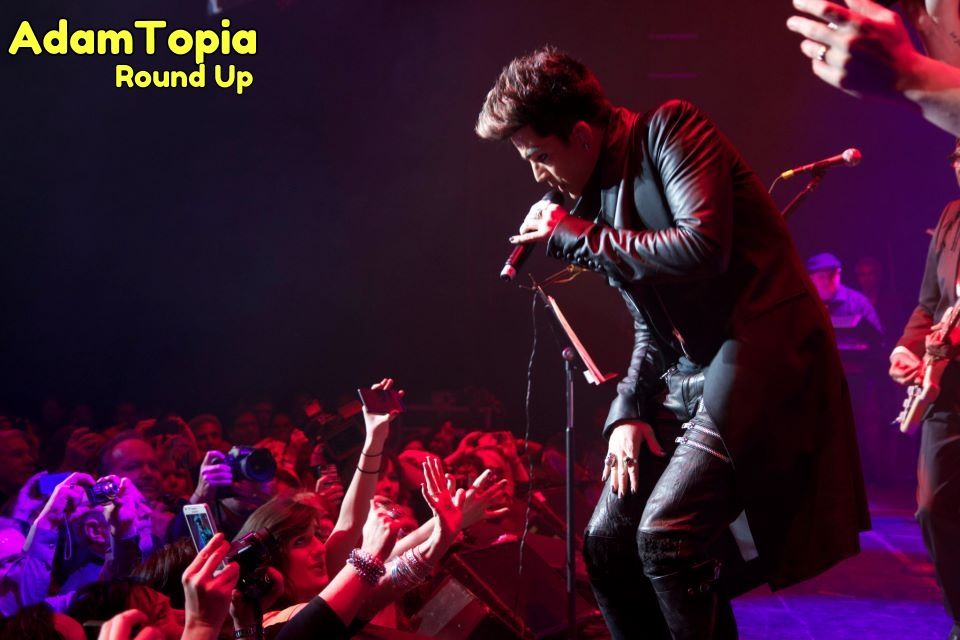 NEWS LINKS
IT'S OFFICIAL!! ADAM IS THE NEWEST SPOKESPERSON FOR "RIFT"!
From Adam's official weibo, it basically says he has officially accepted Shenda Game's invitation to become their newest spokesperson, and the game will be officially launched in China on March 6th.
Below is a screen cap of Adam's RIFT promo vid:
From alidol, RIFT Promo Vid20 Hit Songs Meant For Other Singers
www.billboard.com/articles/columns/pop-shop/1550426/20-hit-songs-meant-for-other-singers
Church feels the heat over gay singer's gig
news.asiaone.com/News/Latest%2BNews/Showbiz/Story/A1Story20130302-405805.html
The Ten Commandments of winning 'American Idol'
Thou shalt honor thy vocal coaches, thy backing band, thy production crew. Though their names are rarely spoken on the show, the people who regularly work with you behind the scenes have the power to make you look like a star on any given night. Alienate them at your peril. When it comes to your band leader, your lighting designer or your stylist, you need to listen to them, work with them and give them ideas. Help them find ways to make you look good.
Adam Lambert
and James Durbin were masters at this.
Link to all the commandments:
www.usatoday.com/story/idolchatter/2013/03/03/ten-commandments-of-winning-american-idol/1959421/
Saying that Adam Lambert isn't fashion-forward is like saying that puppies, kittens, and babies in sunglasses aren't cute -- it's just UNTRUE. That's why we are LIVING for this bright blue suit Adam wore on stage while performing in Shanghai. (Just throw in an oversized collar, bell-bottoms, and a mustache, and he'd be in full '70s throwback mode -- or would that be powder blue? Maybe this is more '80s.) You may also notice how Adam's suit resembles what John Mayer wore to the Grammys! We'd like to imagine that Adam saw John at the Grammys and was all, "Yo, Mayer, I see your blue jacket... and I raise you an entire suit in a bolder hue. I win. Bye." And then, we'd like to imagine that John bowed down because, um, it's Adam Lambert and you bow down to Adam whenever he speaks.
The "Stay" singer has performed in all kinds of dark and fringy outfits while on tour in Asia, but this time Adam showed off this buh-RITE ensemble while on stage in Shanghai. Actually, judging by this photo, it also seems like he's also serving some serious Glam Angles while performing (btw, real Glamberts know that a Glam Angle is any flawless angle Adam gives us in a photo). Now, excuse us while we hunt down every Crayola or Benjamin Moore contact we can find, then DEMAND there be a new color added to the collection called Glambert Blue.
Photo credit: Getty Images
Link:
buzzworthy.mtv.com/?p=197094
Adam Lambert says his confidence is sometimes a facade
www.tnp.sg/content/adam-lambert-says-his-confidence-sometimes-facade
'Idol' star Adam Lambert on pre-show rituals: No, I don't sacrifice baby goats
sg.entertainment.yahoo.com/blogs/singapore-showbiz/glambert-don-t-sacrifice-baby-goats-100226681.html
Singspore Press Conference Video
Direct link: entertainment.xin.msn.com/ (found mid page, on the right)
For those unable to view from official site:
Photobucket Video/Rip/DL by
@
GaleChester
xin.msn ADAM LAMBERT Singapore Press Conference 3-7-13 Via xim.msn...
http://
fb.me/1YLzI9PNh
Adam Lambert Interview (HOT FM's HOT BREAKFAST)
noboobsok
AsiaOne Showbiz
Show's about love, acceptance: Lambert
By Rachael Boon
The Straits Times
Sunday, Mar 10, 2013


American pop singer Adam Lambert was apparently unaware that his concert tonight at The Star Theatre has been the subject of a complaint.
At press interviews on Thursday, the openly gay singer emphasised that his show is about "love, acceptance, positivity, joy, connection".
Last Saturday, The Straits Times reported that the National Council of Churches of Singapore had received a complaint from a Christian that "the gay lifestyle may be promoted at the concert, and that the concert venue is owned by a church".
The Star Theatre is located at The Star Performing Arts Centre, a commercial entity fully owned by Rock Productions, which is the business arm of New Creation Church.
When told about the complaint and concerns in an interview with Life!, the singer said: "It (the concert) promotes love. My show doesn't promote any lifestyle except the lifestyle of love, acceptance, positivity, joy, connection. And that includes everybody, that's my message."

More...

news.asiaone.com/News/Latest+News/Showbiz/Story/A1Story20130308-407197.html
Adam Lambert Coming to Jakarta a Proven Star
www.thejakartaglobe.com/entertainment/adam-lambert-coming-to-jakarta-a-proven-star/577944
Adam Lambert 100 Sexiest Artists VH1
virg18877
My Bowie: Adam Lambert t.co/ra9j0RGZMA
Adam Lambert 2013 Shanghai Concert Report & Interview - City Beat TV show
alidol2011

2013.3.20 Chinese Top Music Chart : Global Most Popular Musician chart of Season 1 @Adamlambert part only http://youtu.be/t7_euRFcYnM he is No.2




Published on Mar 20, 2013
2013.3.20 Chinese Top Music Chart : Global Most Popular Musician chart of Season 1 - @adamlambert is No.2 : original vieot.cn/zYD1Ctf 18'30"


Europa Plus


EuropaPlusMsk
INROCK Mag Japan - April 2013 Issue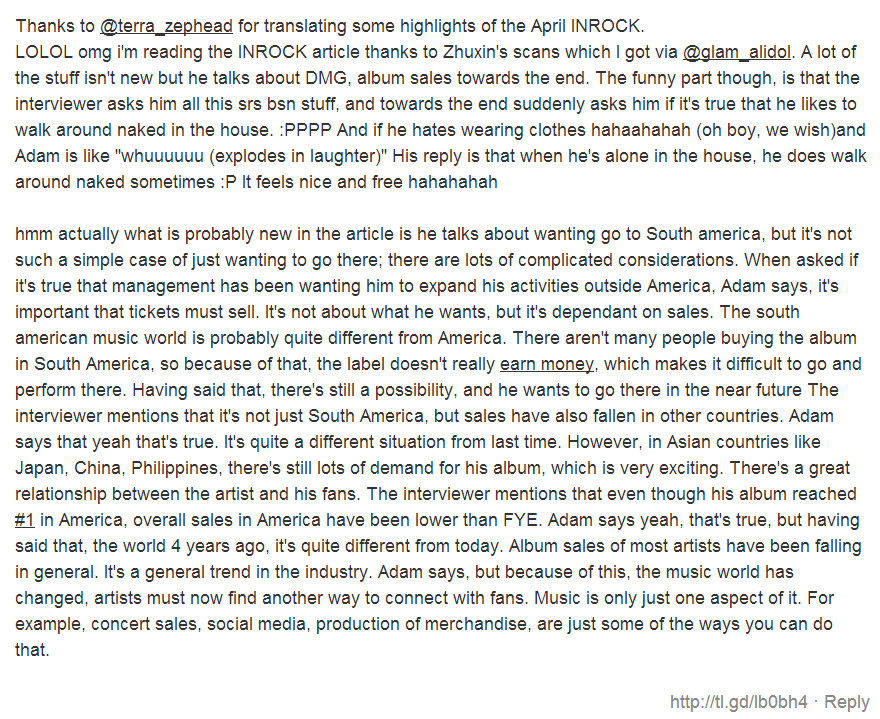 Partial Soundcheckbefore @adamlambert concert in Kiev, 18.03.2013 By Gala Teya
Partial Soundcheckbefore @adamlambert concert in Kiev, 18.03.2013 Sorry somepeople nearby were talking and then security wanted to kick us out...Unsuccessfully though...
Download from devenlane t.co/RJE6WUK46x

soundcloud.com/gala-teya/partial-soundcheck-before
ADAM LAMBERT TO PERFORM LIVE ONLIBERTY AVENUE AT PITTSBURGH PRIDE!!!
Tickets go on sale Friday, April 5 at 10 am
Pittsburgh, PA—The Delta Foundation of Pittsburgh is pleased to announce that Grammy® nominee Adam Lambert will be the featured entertainer at its "Pride in the Street" event, on Saturday, June 15. Tickets will go on sale on Friday, April 5 at 10 am.
Lambert will perform a 90-minute show with a full band and dancers on the outdoor stage at Liberty Avenue in downtown Pittsburgh between 9thand 10th streets. Last year's event drew a record 6,800 attendees with headliner Melissa Etheridge.
Citing influence from various artists and genres, Lambert has a flamboyant, theatrical and androgynous performance style, and a powerful voice with multi-octave range. He has received numerous awards and nominations, including a Grammy Award nomination for "Best Male Pop Vocal Performance" in 2011. He has often been identified as the first openly gay mainstream pop artists to launch a career on a major label in the U.S
Lambert has been a major contributor to the advancement of social acceptance towards the community. He's lent his voice to the "It Gets Better" campaign – a project in response to school bullying and a rash of suicides among LGBT youth. He has been a vocal supporter of marriage equality and has suggested that unequal treatment under the law is complicit in the burden of "shame and guilt and secrecy" that attaches to the LGBT community. In 2010, he received a GLAAD Media Award nomination for Outstanding Music Artist and in 2013 for Outstanding Music Artist. In May he will receive the Davidson/Valentini Award at the 24th annual GLAAD Media Awards. The award is presented to an openly LGBT media professional who has made a significant difference in promoting equality for our community.
Tickets for Pride in the Street are $35 in advance and can be purchased online at www.pittsburghpride.org/tickets or by calling 1-888-71-TICKETS. To attend the event, you must be 18 or older or accompanied by a parent or guardian.
www.pittsburghpride.org/
Adam Lambert to be honored at 24th Annual GLAAD Media Awards in San Francisco presented by Ketel One Vodka and Wells Fargo
New York, Thursday, March 28, 2013 – GLAAD, the nation's lesbian, gay, bisexual and transgender (LGBT) media advocacy organization, today announced it will honor singer, songwriter, and stage performer Adam Lambert at the 24th Annual GLAAD Media Awards, presented nationally by Ketel One Vodka and Wells Fargo.
Adam Lambert will receive the Davidson/Valentini Award at the San Francisco ceremony on May 11, 2013 at the Hilton San Francisco - Union Square, presented locally by Southwest Airlines. The Davidson/Valentini Award is named after Craig Davidson, GLAAD's first executive director, and his partner Michael Valentini. The award is presented to an openly LGBT media professional who has made a significant difference in promoting equality for the LGBT community. Previous Davidson/Valentini honorees include Lee Daniels, Chad Allen, Ilene Chaiken, Ron Cowen and Daniel Lipman, Alec Mapa, B.D. Wong, and Sandra Bernhard.
"Adam Lambert's continued success as one of the world's best-selling pop stars shows LGBT people that they can be themselves and make it in a mainstream industry that many feel unfairly rejects them," said GLAAD's Wilson Cruz. "Adam is fearless on stage and astonishes audiences in every country he performs in."
Upon the release of Lambert's second album Trespassing, of which he is the executive producer and principal writer, Lambert became the first out LGBT artist to reach number one on the Billboard 200. The album made numerous year-end "best of" lists, including Rolling Stone and People, and Lambert supported the album by embarking on a successful world tour. Lambert also performed with legendary rock band Queen in critically-acclaimed sold-out shows across Europe. He has also established himself as one of the few high-profile Western acts across Asia with recent TV performances on the finale of "The Voice of China" and the MNET Music awards, reaching more than three billion viewers.
As an out mainstream pop star, Lambert has used his status to help advance equality and raise visibility of the LGBT community. In September 2012, he participated in a benefit performance to raise money for marriage equality efforts in Maryland and engaged in several interviews, in which he spoke about the importance of empowering and supporting LGBT young people. Lambert has also been recognized by other LGBT advocacy organizations, including Equality California's Los Angeles Equality Awards and the PFLAG National Los Angeles event. In December, he performed at "Cyndi Lauper and Friends: Home for the Holidays," a benefit concert supporting homeless LGBT youth.
In addition to his music, Lambert has appeared on stage and television. His guest spot on the Halloween special of Pretty Little Liars on ABC Family was the highest rated annual Halloween special ever for the network. He also hosted and performed during VH1's Divas, a show benefitting the Save the Music Foundation.
Adam Lambert is a two-time GLAAD Media Award nominee, garnering nominations for both of his albums. He performed two of his songs during the GLAAD Media Awards in Los Angeles in 2010.
Additional honorees and special guests for the San Francisco event will be announced.
Nominees for the 24th Annual GLAAD Media Awards were announced in January and are available here: www.glaad.org/mediaawards/nominees. The GLAAD Media Awards recognize and honor media for their fair, accurate and inclusive representations of the LGBT community and the issues that affect their lives. Each year, the GLAAD Media Awards in New York, Los Angeles and San Francisco bring together more than 5,000 advocates and allies to raise critical funds for the organization's work.
The 24th Annual GLAAD Media Awards are executive produced by Marc Honaker, Director of Creative Development at GLAAD, and by Josh Wood, founder and president of Josh Wood Productions. Emmy Award-winning production designer James Connelly will design this year's set across the three cities. Acclaimed producer and editor Brett Henrichsen will also contribute to this year's GLAAD Media Awards.
To receive the latest updates on the GLAAD Media Awards, follow @glaad on Twitter and use the hashtag #glaadawards.
More than 100 corporate partners are showing their support, including National Presenting partners Ketel One Vodka and Wells Fargo, New York and Los Angeles Presenting partner Delta Air Lines, and San Francisco Presenting partner Southwest Airlines. GLAAD is also grateful to the 24th Annual GLAAD Media Awards Platinum Underwriter corporate partners Anheuser-Busch, Inc., NBCUniversal/Comcast, Prudential and Sheppard Mullin, as well as Underwriter corporate partners: Allstate Insurance Company, AT&T, Barefoot Wine & Bubbly, Caesars Foundation, Disney-ABC Television Group/ESPN, Kirkland & Ellis, New York Marriott Marquis & Renaissance Hotel, PwC and VPI Pet Insurance. Gold Patron partners include 1800Flowers, CBS/Showtime, Citi and Viacom. For a full list of corporate partners and information on how to become a corporate partner, purchase tickets and place a tribute in the tribute book, please visit www.glaad.org/mediaawards.
###
About GLAAD:
GLAAD amplifies the voice of the LGBT community by empowering real people to share their stories, holding the media accountable for the words and images they present, and helping grassroots organizations communicate effectively. By ensuring that the stories of LGBT people are heard through the media, GLAAD promotes understanding, increases acceptance, and advances equality. For more information, please visit
www.glaad.org
or connect with GLAAD on
Facebook
and
Twitter
.
www.glaad.org/releases/adam-lambert-be-honored-24th-annual-glaad-media-awards-san-francisco-presented-ketel-one
Out of the Closet: A photo history of openly LGBT artists including @adamlambert, @teganandsara and tons more http://on.fuse.tv/1717TJ5


Adam Lambert
The 'American Idol' season 8 runner-up came out to 'Rolling Stone' in the summer of 2009: "I don't think it should be a surprise for anyone to hear I'm gay. I've been living in Los Angeles for eight years as a gay man. I've been at clubs drunk making out with somebody in the corner."