Post by tinafea on Jun 1, 2011 9:01:21 GMT -5
Week of June 5th
06/06: Adam and James Durbin Twitter Convo
adamlamberttv.blogspot.com/2011/06/james-durbin-asks-adam-lambert-out-on.html
06/06: Adam Lambert Defends Rihanna's Man Down Video
neonlimelight.com/2011/06/05/adam-lambert-defends-rihannas-man-down-video-its-all-entertainment/
06/10: Complete Footage of Adam's Donors Choose Visit to Belvedere Middle School
bit.ly/k8qqGB
and
CNN Idol Finale Footage
bit.ly/jv23yS
and
Week of June 12th
06/12: Fox All Access Interview from May 25th
06/12: Old/Lost Q102 Interview of Eber Lambert After Idol Finale w Adam Call In
soundcloud.com/galechester/adam-lamberts-dad-eber
06/14: Studio 69's "Pirates vs. Ninjas" Night Brings Out Epic Props and Partiers
blogs.laweekly.com/westcoastsound/2011/06/pirates_ninjas_adam_lambert.php
06/16: Changing Tunes: Aging rockers need not apply 'BTM' is back and younger-but you still need a good story
nyp.st/l3KoRw
06/16: Haveron Interview includes Adam and new tattoo
thetribesofart.blogspot.com/2011/06/hans-haveron-moving-toward-light.html
06/17: Adam Lambert Clears Up Accident Rumors
justjared.buzznet.com/2011/06/17/adam-lambert-clears-up-accident-rumors/
Week of June 19th
06/21: Pro Pics from Moscow
www.daymusic.ru/photo/3288
06/21: 20 Great Gay Moments in Music
www.billboard.com/features/20-great-gay-moments-in-music-1005242082.story#/features/20-great-gay-moments-in-music-1005242082.story?page=2
06/22: The 'American Idol' Afterglow: 15 Alums Are on This Week's Billboard Charts
www.billboard.biz/bbbiz/industry/tv-film/the-american-idol-afterglow-15-alums-are-1005247142.story
06/22: It's Adam vs. Adam on Vulture's Anticipation Index
nymag.com/daily/entertainment/2011/06/its_adam_vs_adam_on_vultures_a.html
06/22: Adam Levine's Response to The Voice Comments He Made
06/24: Adam Lambert Joined Local Onstage June 19th
www.sandiegoreader.com/weblogs/jam-session/2011/jun/22/adam-lambert-joined-local-onstage-sunday-june-19/
@jam2885 The guy from the San Diego bar posted more details on AO. SO SWEET.
t.co/wvb7YXj
Read more:
atop.proboards.com/index.cgi?action=display&board=daily&thread=374&page=5#ixzz1QCkyG9ou
Week of June 26th
06/28: Pics from
[email protected]
Playground filming on ALF
adamlambertfans.com/news/38311
06/28: Life.com List of Unlikely Heartthrobs, Adam is #14
t.co/UBUwjH4
06/30: Nikka Costa Interview, she talks about Adam at beginning
07/02: More Moscow Pics
www.sbelyakov.ru/concert2011/maxidrom/index.htm
TWEETS OF THE MONTH
6.5.11 from Twitter
Adam tweeted some information about his album but none of it was new information. But the message was be patient and expect surprises. Oh, and he debunked the Xtina duet rumor, but we already knew that.
Anyway... Btw the Xtina rumor is just a rumor... Although I'd be honored!
Haha y'all may as well quit with the album questions... I want to surprise u! I know it's tough but you'll have to be patient...

And I don't know the release date yet cuz it's not finished...
ashtash
Ashley
@adamlambert But do you have enough done for a single release soon?
in reply to ª
@adamlambert Adam Lambert
ashtash
not gonna release a single until album is finalized...
*****************************************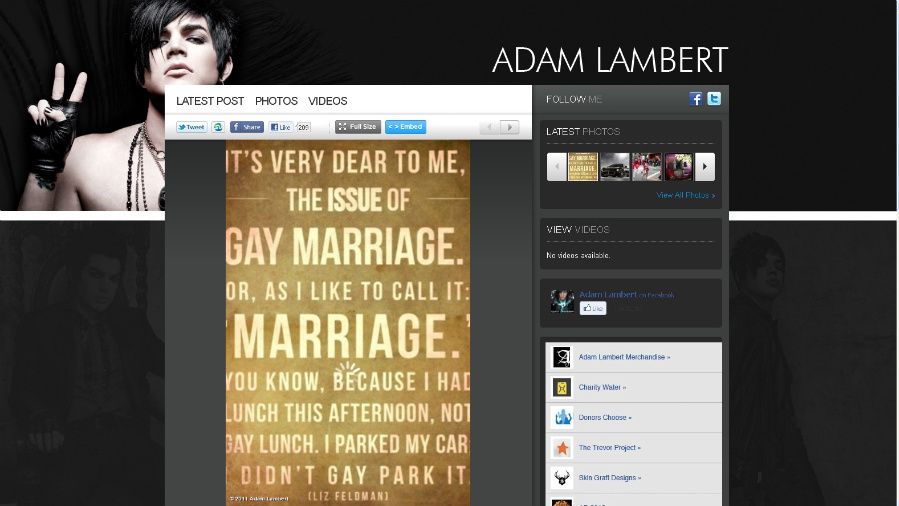 June 19, 2011

Adam Lambert: Exactly. If we want to progress as a society we have to begin to focus on how we are the same and not how we're different.
*******************************************