Post by tinafea on Aug 1, 2019 23:11:37 GMT -5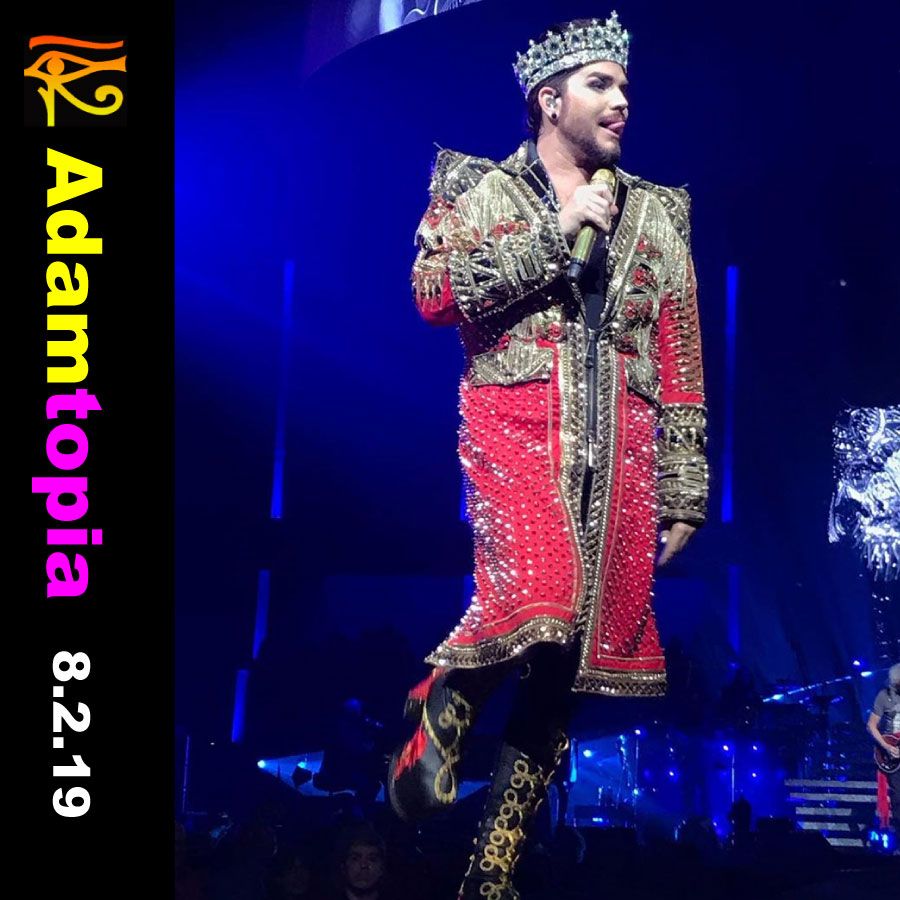 Reviews From Pittsburgh
Pittsburgh Post-Gazette @pittsburghpg
Queen + Adam Lambert at PPG Paints Arena is pretty killer
www.post-gazette.com/ae/music/2019/08/01/Queen-Adam-Lambert-concert-review-Pittsburgh-PPG-Paints-Arena-Rhapsody-Tour/stories/201908010096?utm_medium=social&utm_source=twitter_PittsburghPG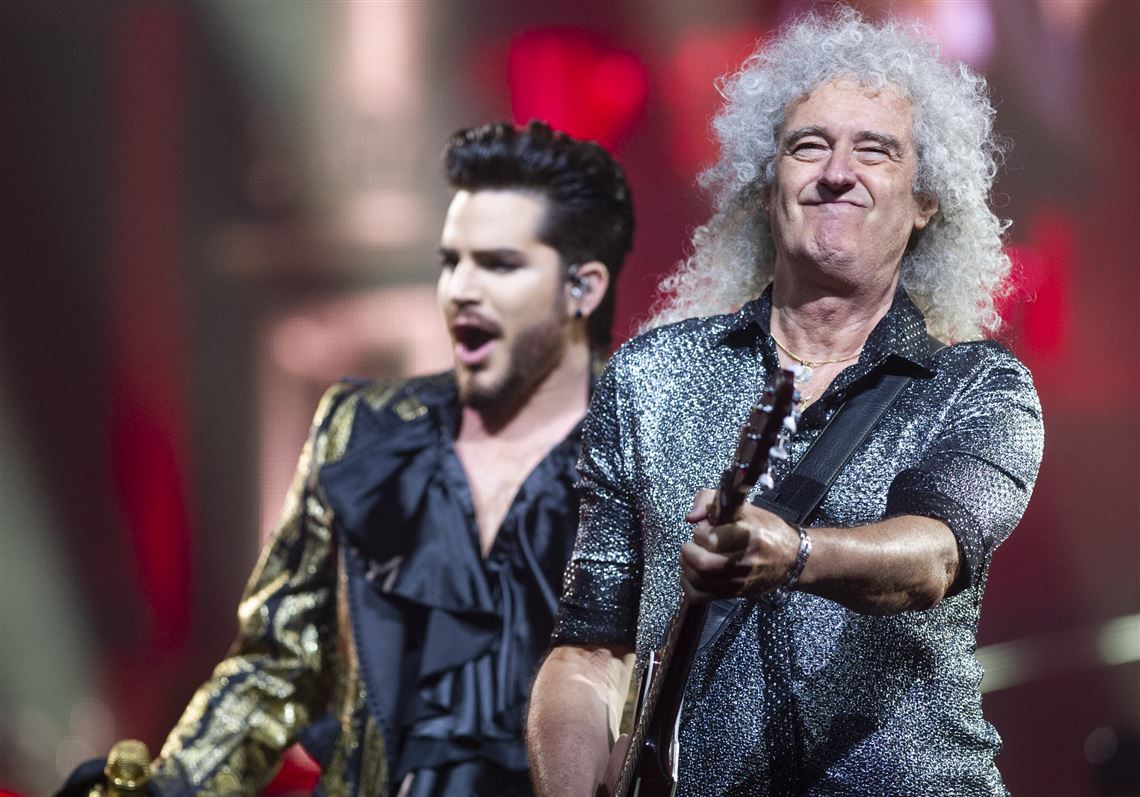 Rami Malek, with some extra overbite, grabbed the Oscar for portraying Freddie Mercury in "Bohemian Rhapsody," and while they don't hand out awards for concert performances, by the end of the night Wednesday, Adam Lambert clearly earned the velvet cloak and crown he donned for "We Are The Champions."
And remember, the guy didn't even win "American Idol."
But that's a whole other story. He's a champion now in the eyes of millions of fans worldwide for bringing Queen back to majestic new life as a high-end tribute act with the two remaining members.
Queen + Adam Lambert, the successful sequel to Queen + Paul Rodgers, launched its first world tour in 2014 and finally made its Pittsburgh debut Wednesday at a sold-out PPG Paints Arena in a dazzling, deep dive into one of rock's quirkier catalogs.
The stage, appropriately, was dressed with operatic touches like a Greek theater facade, crimson curtains and theater boxes for some fortunate fans. Queen guitar hero Brian May appeared in silhouette on screen, and in a clever throwback to the band's '70s shows, Lambert popped up in a few places at once before stepping out in an ornate black-and-gold suit with "Now I'm Here."
The dramatic entrance and May's first solo were undercut by a flat sound mix that persisted through "Seven Seas of Rhye" and "Keep Yourself Alive" before brightening for "Hammer to Fall" and "Killer Queen," which began with Lambert fanning himself on the piano and climaxed with one of May's signature liquid solos.
Playing stand-in for Freddie Mercury requires an impossible balance of humility and flamboyance that Lambert, with glitter on his eyelids, somehow managed to strike by just being himself.
"I feel so lucky and so fortunate to be taking the stage with these gentlemen night after night," he said, addressing the audience. "It is a HUUUGE honor to be carrying a torch for one of my all-time musical heroes: the irreplaceable, one and only rock god Freddie Mercury!
"You miss Freddie?" he said over the cheers. "See, that's what's so cool, is I'm just like all of you guys. I'm a fan as well. I'm just up here in this really gay suit."
Actually, it would get even gayer, with a silvery fringe number and the studded biker gear for "Bicycle Race," sung while kicking back on a rotating motorcycle. He didn't do the classic white tank top, but wardrobes aside, the important thing is that he has rare pipes to soar like Mercury without ever falling into imitation or parody.
He didn't have to carry it all. Midway through, the show moved to the foot of the runway where May sat down on acoustic for a fragile, tender reading of "Love of My Life" joined beautifully by Mercury on video. "Recognizing the fact that that's impossible to follow," as he said, he did anyway with the jangly folk-rock song "'39," one of his rare studio lead vocals (from "A Night At the Opera") that turned out to be a show highlight.
Original drummer Roger Taylor (apologies for just getting to him) took the lead on "I'm in Love With My Car," as he did on that same album, and "Doing All Right" and then filled the Bowie role nicely on "Under Pressure." Also done on the runaway was club banger "Another One Bites the Dust," now rendered hard to listen to without hearing "Another Rides the Bus."
As the show wore on, Queen enhanced the art-rock visuals, including a disco ball for "I Want to Break Free" and dynamite on the laser beams for "Who Wants to Live Forever," the kind of power ballad made for "American Idol." In the show's most Pink Floyd moment, May — guitarist and astrophysicist — went sci-fi on a riser of glowing lava for "Last Horizon," a solo with long elegant lines and a thundering power finish that transitioned into a hard-rocking "Tie Your Mother Down." It was followed by a jubilant sea shanty sing-along of "Fat Bottomed Girls," which was strange in 1978 and just a little more wrong in 2019.
For the set-closing "Bohemian Rhapsody," May donned a space robot suit and mask and Lambert topped a riser with a single spot singing the opening "Mama, just killed a man." In another perfect touch, they turned the operatic interlude over to Mercury, via the classic Queen video, before May and Lambert crushed the song's hyperdrive climax in the most thrilling musical moment of the night.
Back on video, Mercury's "Ay-Oh" chant from Live Aid set up the stomping soccer-stadium finish of "We Will Rock You" and "We Are the Champions" that sent everyone home fully energized.
Can they tell their grandkids, now or many years from now, that they saw Queen? Nope. But the two original parts and the singer who idolized Freddie got them pretty close to the killer Queen.
Pittsburgh City Paper @pghcitypaper
Were you at the Queen and Adam Lambert show last night? What did you think? We'd like to know.
www.pghcitypaper.com/pittsburgh/concert-photos-queen-adam-lambert-at-ppg-paints-arena/Content?oid=15539143
Concert photos: Queen + Adam Lambert at PPG Paints Arena
Queen brought The Rhapsody Tour to PPG Paints Arena last night as part of a 23-date arena and stadium tour celebrating the song first made famous by original singer Freddie Mercury in 1975.
The legendary band, with original members Brian May and Roger Taylor, teamed up for this tour with American Idol alum Adam Lambert, who has filled in on vocals with the band since 2011.
Lambert has long praised Mercury's influence on his own work. "When I look at the history of rock & roll," he told Rolling Stone, "Queen is the band that resonated the most with me: 'That's me, that's my life.'"
The Rhapsody Tour follows 2018's "barely mediocre" biographical drama film Bohemian Rhapsody, according to Pittsburgh City Paper movie critic Hannah Lynn. "Unlike the band and the song, which found the exact right formula of heart and insanity to make something magic, the movie fails to synthesize the band and Freddie Mercury's life," penned Lynn in her review.
Did Lambert's performance last night give the memory of Freddie Mercury more justice than the film? You tell us. Sound off in the comments.
Below are CP photographer Mike Papariella's standout photos from last night's concert.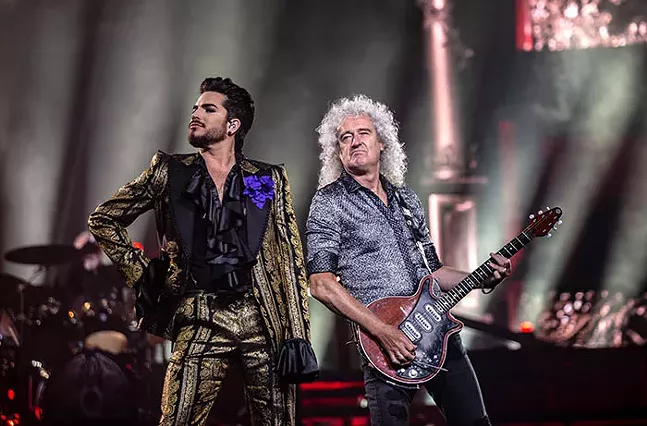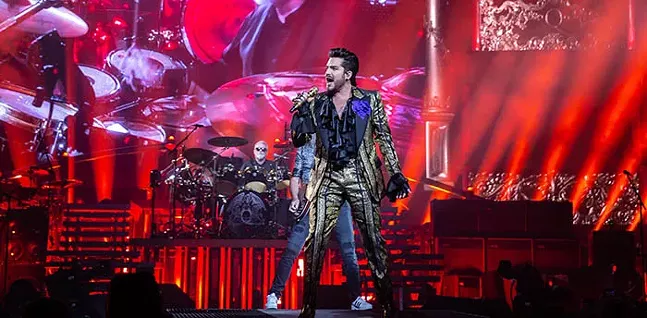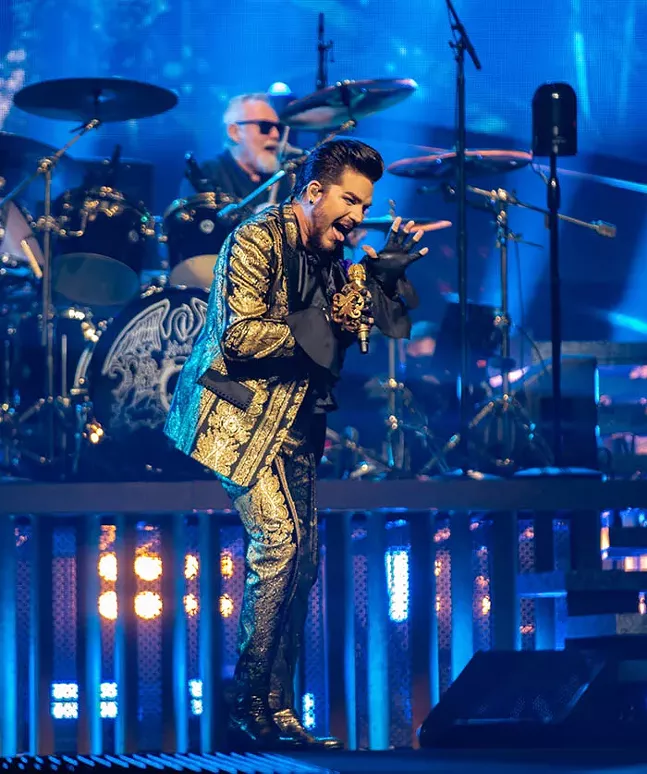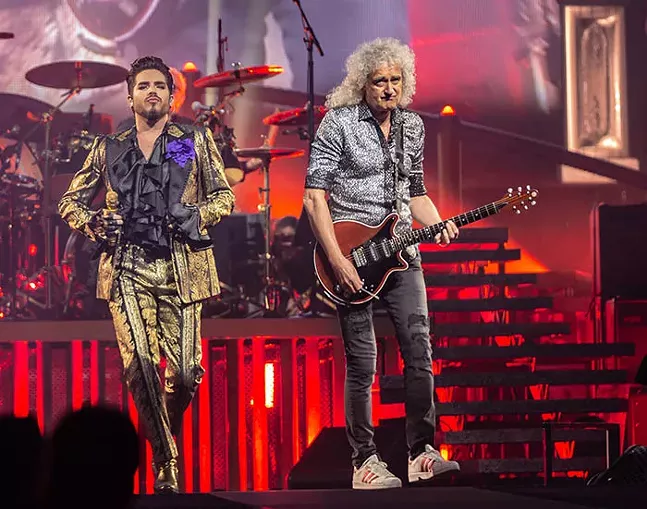 Timesonline.com @bctimes
With Adam Lambert firmly handling lead vocals, the classic rock band lived up to its lofty legacy Wednesday at a sold-out PPG Paints Arena.
www.timesonline.com/entertainmentlife/20190801/concert-review-queen-was-killer-at-pittsburgh-show

Concert review: Queen was a killer at Pittsburgh show
PITTSBURGH – Big, bold and bodacious — it was everything you'd hope for from a Queen concert.
With Adam Lambert firmly handling lead vocals, the classic rock band lived up to its lofty legacy Wednesday at a sold-out PPG Paints Arena.
The anthems sounded mighty, Brian May was an affable beast on guitar, and loads of laser beams brought a cool, old-school arena-rock glow.
May's fellow original band member, drummer Roger Taylor, got a couple of songs to sing, decently doing the David Bowie vocal part on "Under Pressure," and bringing the proper heft and a fair amount of speed to the drum-driven "Fat Bottomed Girls."
The first of the hits came three songs in with "Keep Yourself Alive," abbreviated to leave out the "loved a million women in a belladonic haze/ate a million dinners brought to me on silver trays" line. Two songs later came "Killer Queen," with Lambert still in his first of many outfits, all shiny gold and opulent, singing and seating jauntily atop a piano cabaret-style pretending to cool himself off by waving a hand-held fan. With legs widely spread, he theatrically fanned his lap for the "naturally from Paris" line.
Prestigious and precise, Lambert was a charmer, with a clear and charismatic voice and ample stage panache. The former "American Idol" star, now in his eighth year with Queen, emphasized early that just like everyone else in the room, he was a major admirer of the man who originally held his position.
"It's a huge honor to carry the torch of one of my heroes, the one and only Freddie Mercury," Lambert said.
Lambert put in just the right amount of imitation, staking out his own identity and not going overboard trying to be a carbon copy of Mercury, whose image and voice popped up a couple times, once appearing on the large video screen to look as if he was singing alongside the current and live image of the guitar-slaying May on "Love of My Life."
From the gleaming, spinning motorcycle Lambert stretched out on while singing "Bicycle Race," to May ascending on a hydraulic riser to look as if he was riding an asteroid surrounded by different colored planets and moons (he's a real-life astrophysicist, you know), the show brought a feast to the eyes.
More important, the greatest hits all sounded great.
"Another One Bites the Dust" delivered a thick bass beat and swagger; "Crazy Little Love" added a rockabilly vivacity, and fine guitar from May, whose clean, propulsive strokes and strums likewise shined on his spacey solo that segued nicely into the revved up "Tie Your Mother Down."
You had to be feeling goosebumps as Lambert took a big breath than nailed the final verse of "Under Pressure," or when the crowd did the double hand claps, Live Aid style, for "Radio Gaga."
The classic rock epic "Bohemian Rhapsody" brought the set to a strong finish, with the iconic video of the original band singing, and all that vocal bluster building majestically to May's piercing guitar part, prompting many in the crowd to headbang the "Wayne's World" way.
For the encore, Lambert took the stage in glam-rock platforms and a regal crown as fans got busy with their stomp-stomp clap, stomp-stomp clap for "We Will Rock You," leading to the triumphant singalong of the stadium-sized "We Are the Champions."
Simply put, Queen ruled.
***********
Playmobil The Movie: "Give The People What They Want" Performed By Adam Lambert Playing Emperor Maximus
QAL North American Tour 2019

10 Jul Vancouver, BC Rogers Arena
12 Jul Tacoma, WA Tacoma Dome
14 Jul San Jose, CA SAP Center
16 Jul Phoenix, AZ Talking Stick Resort Arena
19 Jul Los Angeles, CA The Forum
20 Jul Los Angeles, CA The Forum
23 Jul Dallas, TX American Airlines Center
24 Jul Houston, TX Toyota Center
27 Jul Detroit, MI Little Caesars Arena
28 Jul Toronto, ON Scotiabank Arena30 Jul Washington, DC Capital One Arena31 Jul Pittsburgh, PA PPG Paints Arena
03 Aug Philadelphia, PA Wells Fargo Center
04 Aug Boston, MA Xfinity Center
06 Aug New York, NY Madison Square Garden
07 Aug New York, NY Madison Square Garden
09 Aug Chicago, IL United Center
10 Aug St. Paul, MN Xcel Energy Center
13 Aug Columbus, OH Nationwide Arena
15 Aug Nashville, TN Bridgestone Arena
17 Aug Ft. Lauderdale, FL BB&T Center
18 Aug Tampa, FL Amalie Arena
20 Aug New Orleans, LA Smoothie King Center
22 Aug Atlanta, GA State Farm Arena
23 Aug Charlotte, NC Spectrum Center
28 Sept QAL - Global Citizen Performance, Central Park, NYC
How to earn a free ticket: globalcitizenfestival.com.
Air live on MSNBC & Comcast NBCUniversal; plus, iHeartMedia will broadcast the event live across the country on its radio stations, as well as stream it on iHeartRadio.
VIP tickets are available from Ticketmaster.com (in the past, they sold out fast).